From waitress to London master franchise manager - Gemma is the latest Baguette Express success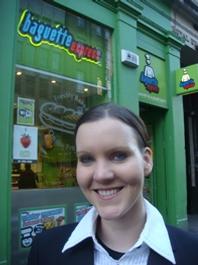 When Gemma Field left school she vaguely thought that she might do something in the catering or hospitality industry – but had no idea she would end up overseeing a growing empire of shops in the UK's fastest-growing sandwich chain.
That's exactly what has happened to the bubbly 25-year-old from Torrance, just outside Glasgow, after she teamed up with Baguette Express, the healthy snacking franchise which is snapping at the heels of industry giants such as Gregg's and O'Brien's.
Gemma, who now lives in the lively suburb of Dennistoun in Glasgow, is not only manager of the busy Queen Street branch of Baguette Express in Glasgow city centre, she is also helping develop and train two recently opened stores in Harlow and Camden in London, and is responsible for overseeing the opening of all new stores as the London master franchise takes off.
She said: "I'm up and down to London all the time at the moment. It's really exciting and the potential for the franchise in the most vibrant city in the world is enormous."
Gemma says her current hectic life is a far cry from the path she thought her career would take when she left school and enrolled in college to study travel and tourism.
"When I finished college, I thought I would work as a waitress for a bit and try to work my way up and gain more responsibility while I looked for something with more of a career structure", she said.
Not that she didn't enjoy waitressing. Gemma was working in trendy Glasgow bars such as Bar Budda and smart café restaurants such as Bon Giorno on the south side of the city.
But her life changed when a friend introduced her to Queen Street Baguette Express franchisee Amjid Bashir, an energetic and busy entrepreneur who had already built a property empire, a software company and a chain of convenience stores.
Amjid, who has just taken on the London master franchise for the chain and is on track to create more than 500 jobs in the capital, may have seem something of his own ambition and drive in Gemma.
Instead of just taking her on, he immediately made her a supervisor and gave her a kind of responsibility she had never experienced before. They went through the standard two weeks training – obligatory for every Baguette Express owner or manager – in Edinburgh and then Gemma was thrown in at the deep end with the opening of the Queen Street store.
"It wasn't stressful, it was just exciting," she said. "It was great fun staying in a hotel in Edinburgh while we did our training and then going straight into a busy store was just a whirlwind.
"I simply hadn't realised the opportunities that were available in a franchise. Shortly after I started in Queen Street, Amjid promoted me to manager and I was responsible for checking staff, dealing with ordering and organising promotions. It was terrific."
Observing how well Gemma dealt with the responsibility of the Glasgow flagship store, Amjid put her in charge of making sure the first of the London franchise stores opened and operated just as successfully.
She said: "I was sent down to make sure the franchisees had back-up when they needed it. Yes, they were nervous about the openings, but that's only natural. I was there to make sure they had hired enough staff, had given out introductory vouchers and had their promotions properly organised.
"Sometimes it can be a bit scary. I've seen shopfitters still working in a store only a few days before opening. New managers can forget to order simple things like pens or cleaning cloths. It's good to have someone there to remind you of the little things as well as the big ones."
Gemma knows that as the London master franchise grows towards its target figures, she will be spending more and more time in the capital, but she says that she can't see herself moving down permanently.
She said: "As time goes on, I'll be involved with all the shop openings and I'll be uniquely qualified to help franchisees get their feet on the ground. At the same time, I'm learning a lot about business, marketing and promotions. It's great to be part of building something as worthwhile and exciting."