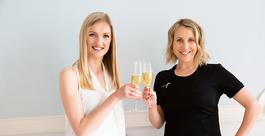 Name: Fay Smith and Jenna Wilson
Franchise: Little Dreams Consulting Ltd
Tell us a bit about yourself
Jenna: Jenna lives on the outskirts of Bristol with her husband and three children. She was a family/childcare solicitor for 12 years but, after the birth of her second child, felt she needed a change of career and trained with Sleep Sense whilst pregnant with her youngest. Outside of being obsessed with all things sleep she enjoys exercise, socialising, travel and spending time with her family.
Fay: Fay lives in rural South Wales with her husband, 2 children, their dog and pony! Her background is in mental health social work so along with being a parent herself, she knows all too well how important sleep is to overall health and wellbeing.
Both high quality and achieving the best franchise possible have been incredibly important to both Jenna and Fay, which is why they have invested a substantial amount of time, money and effort into working with experts in the field to ensure they have been able to offer what they believe to be, an amazing franchise opportunity.
What are your roles and responsibilities in the company?
Jenna founded Little Dreams Consulting Ltd in 2016 and Fay became a co-Director in 2021, after which they set up the Little Dreams Franchise. Despite Little Dreams Consulting doubling in size last year – taking on two more consultants and an administrative assistant, both Jenna and Fay continue to play an active role in the consulting side of the company by providing sleep consulting services. Alongside this, Jenna and Fay oversee the day to day running of the franchise company, from recruiting potential franchisees, training them and then mentoring and supporting each of them to grow their own successful business.
Can you tell us about the business?
After having two children, Jenna realised she wasn't in love with being a solicitor anymore. For 12 years she had been qualified, specialising in childcare law, and a member of the children panel. To change track, she trained as a sleep consultant while pregnant with her third child, in 2016, and she launched Little Dreams soon after. In January 2018, Fay joined the team and together they have grown Little Dreams Consulting to what it is today – a thriving business!
Little Dreams Consulting Ltd are now a team of 4 baby and child sleep consultants, and an administrative assistant. We work with parents around the world (via Zoom) with children between 4 months and 10 years old also offering antenatal packages and seminars. We have worked 1-1 with approximately 650 families.
Little Dreams Franchise Ltd was launched in December 2021 and within a month we had already signed up and trained our first two founder franchisees. We have recently been accepted as members of the BFA and are now one of their approved franchises.
Today, we work with little ones from 4 months to 10 years and offer bespoke plans and support to guide parents through teaching their little ones to sleep – with no need for crying it out.
Why is Little Dreams Consulting franchise a great investment for potential franchisees?
We provide everything you could need to start your business and become a sleep consultant, all the training, mentoring and expert advice to allow you to succeed and thrive!
What differentiates your franchise from the competition?
Our franchise offers a proven infrastructure, utilising all the things we know work well for the business, along with the training and know-how to make the business a success in the franchisee's territory.
No expense has been spared in ensuring each territory is based on the demographic that we have proven to work in the Bristol area, and in ensuring the training for franchisees is thorough, detailed and thought through to the finest detail. Again, no expense has been spared as we have worked closely with BFA accredited legal, consultancy and software developer professionals in order to create bespoke systems and a franchise package that is exceptional.
There are other training courses on the market today, claiming to teach people how to be a sleep consultant. We believe our franchise goes far beyond any other offering on the market today. We support our franchisees intensely throughout their first year in business in order to ensure they are able to navigate all baby and children sleep issues as well as building a successful business of their own under the Little Dreams brand. Our mission is to create a network of people, as passionate as we are, across the UK, to bring sleep to as many families as possible.
What is the role of a Little Dreams Consulting franchisee?
All of our Little Dreams franchisees receive a high level of training both inhouse and from external experts. This covers not only everything you need to know about sleep and the issues you will face as a sleep consultant, but also in relation to running your own business. The franchisee will ultimately be responsible for running a successful territory and all the aspects involved in achieving that.
What qualities do you look for in a franchisee? What makes a successful franchisee?
We are looking for franchisees who are incredibly empathetic and have impeccable communication skills and attention to detail. They will need to be driven, highly motivated but also looking to work as part of a fabulous team.
How did your franchise adapt during the COVID-19 pandemic? How did you support your franchisees during this time?
We were in the process of building our franchise opportunity during the pandemic and therefore hadn't recruited any franchisees during this period. However, in terms of Little Dreams Consulting Ltd, we were forced to adapt and took our whole business online. This meant we were able to speak to families in many more places in the UK plus abroad. We doubled our workforce in 2021 from two to four consultants and were also able to employ an assistant.
What other challenges have you had to overcome and adapt to over the years in your franchise and the industry in general?
Sleep consulting is often viewed as a 'controversial' topic. Whilst we help hundreds of families every year, there will always be people who don't necessarily agree with the concept. All of our sleep consultants are trained, in part, by the Sleep Charity UK who offer sleep services on the NHS in parts of the North of England. This provides our sleep consultants with an extra level of credibility when it comes to managing the common concerns voiced by some. This, together with our evidence based approach, has led to the growth of Little Dreams Consultants despite the sometimes controversial view of the industry.
What have been the company's biggest achievements/successes to date so far?
We have been featured in the Times, Telegraph, ITV regional news and in several local papers, giving advice about sleep. Our founder, Jenna, teaches on expert-led antenatal classes set up by doctors and she was an expert speaker at the Somnex sleep show. She has been interviewed by Marina Fogle on her Parenthood podcast and we have also been regularly featured as expert speakers in Mamas & Papas and, in the past, Mothercare.
The most recent media involvement was a 30 minute interview on BBC Radio Bristol last year about the founding of Little Dreams and Jenna's sleep tips.
We were thrilled to win the Corporate Livewire award in the wellness category for the last 3 years and our franchise won the Bristol Corporate Livewire Wellness brand of the year 2022. We were also shortlisted in 2019 for The Bristol Life Awards and the Small Awards in 2020.
Both Jenna and Fay are members of the Association of Professionals Sleep Consultants, British Sleep Society and British Paediatric Sleep Society as well as the BFA (British Franchising Association).
What does the future hold for the business? What are your growth targets?
Little Dreams Consulting Ltd's income growth has been 36% in the last year alone and we hope to sustain this in the coming 12 months. Our aim is to sell and support 5-6 territories by the end of 2022 to ensure our growth is steady but we are able to maintain our high standards.
What expansion plans have you got nationally and internationally?
We have secured the Little Dreams Consulting European trademark so that, in time, we are able to expand out franchise network beyond the UK. This is something we will consider following the success with the franchise within the UK.
Our aim is, quite simply, to become the go-to brand of sleep consultants, offering a consistent, knowledgeable service to families across the UK and beyond.