Franchisee success stories
First Driving Miss Daisy franchisee in Scotland talks to whichfranchise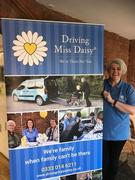 Ann Overdijking is the first franchisee for Driving Miss Daisy in Scotland. Driving Miss Daisy offers a reliable companionship and transportation service to the elderly and infirm, giving them more independence to live the life they want. And Ann is now living the life she has always dreamed off. Ann is no stranger to franchising, having worked in the industry for 7 years, and with a past background in nursing too, Driving Miss Daisy was the perfect opportunity for Ann. In this article Ann talks to us about why she chose Driving Miss Daisy, her franchise journey so far and aspirations for the future. Read more about Ann and her new Driving Miss Daisy venture.
Read more
Scottish franchise news
Business is booming for TaxAssist Accountants Edinburgh

Since 2010 Renee Mackay has built up a client base of over 1,200 small and medium-sized businesses with a fee bank of £800,000 and 15 employees.
Read more
Looking to franchise your business?
If you are running a successful business in Scotland, the time may be right to look to expand it. Franchising is an excellent method of expanding an already successful business but that's not to say that it is right for every business. In our Franchise Your Business section we look at the benefits of franchising a business, we help you to identify if your business is franchiseable and we outline the steps to franchising a business. You can also contact franchise consultants to enquire about franchising your own business. Read More
By Richard Holden, Lloyds Bank

Small business is the lifeblood of the Scottish economy and plays a fundamental role in the country's success. Confidence is growing amongst business owners in Scotland according to recent reports that indicate the availability of affordable finance is now considered to be significantly higher than twelve months ago. Read More
Top