Franchisee success stories
Father and son run multi-van Snack in the Box business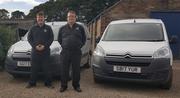 Andrew Sharpe joined Snack in the Box in August 2016 and initially serviced the Ayrshire and South Glasgow area. He has recently taken the decision to purchase a neighbouring Snack in the Box territory and bring his son, Alan, in to the business. They now operate the business with two vans and have over 180 customers! Read why Andrew chose SITB, what his personal objectives were, why he decided to expand, the challenges he has faced and future plans for their business.
Read more
Scottish franchise news
TaxAssist Accountants franchisee Steven Mearns continues expansion plans with opening of second shop

TaxAssist Accountants franchisee Steven Mearns adds another store on High Street, Banchory to join his first shop on 92 Rosemount Place in Aberdeen. Learn more about Steven's ambitious growth plan with TaxAssist accountants!
Read more
Looking to franchise your business?
If you are running a successful business in Scotland, the time may be right to look to expand it. Franchising is an excellent method of expanding an already successful business but that's not to say that it is right for every business. In our Franchise Your Business section we look at the benefits of franchising a business, we help you to identify if your business is franchiseable and we outline the steps to franchising a business. You can also contact franchise consultants to enquire about franchising your own business. Read More
By Richard Holden, Lloyds Bank

Small business is the lifeblood of the Scottish economy and plays a fundamental role in the country's success. Confidence is growing amongst business owners in Scotland according to recent reports that indicate the availability of affordable finance is now considered to be significantly higher than twelve months ago. Read More
Top