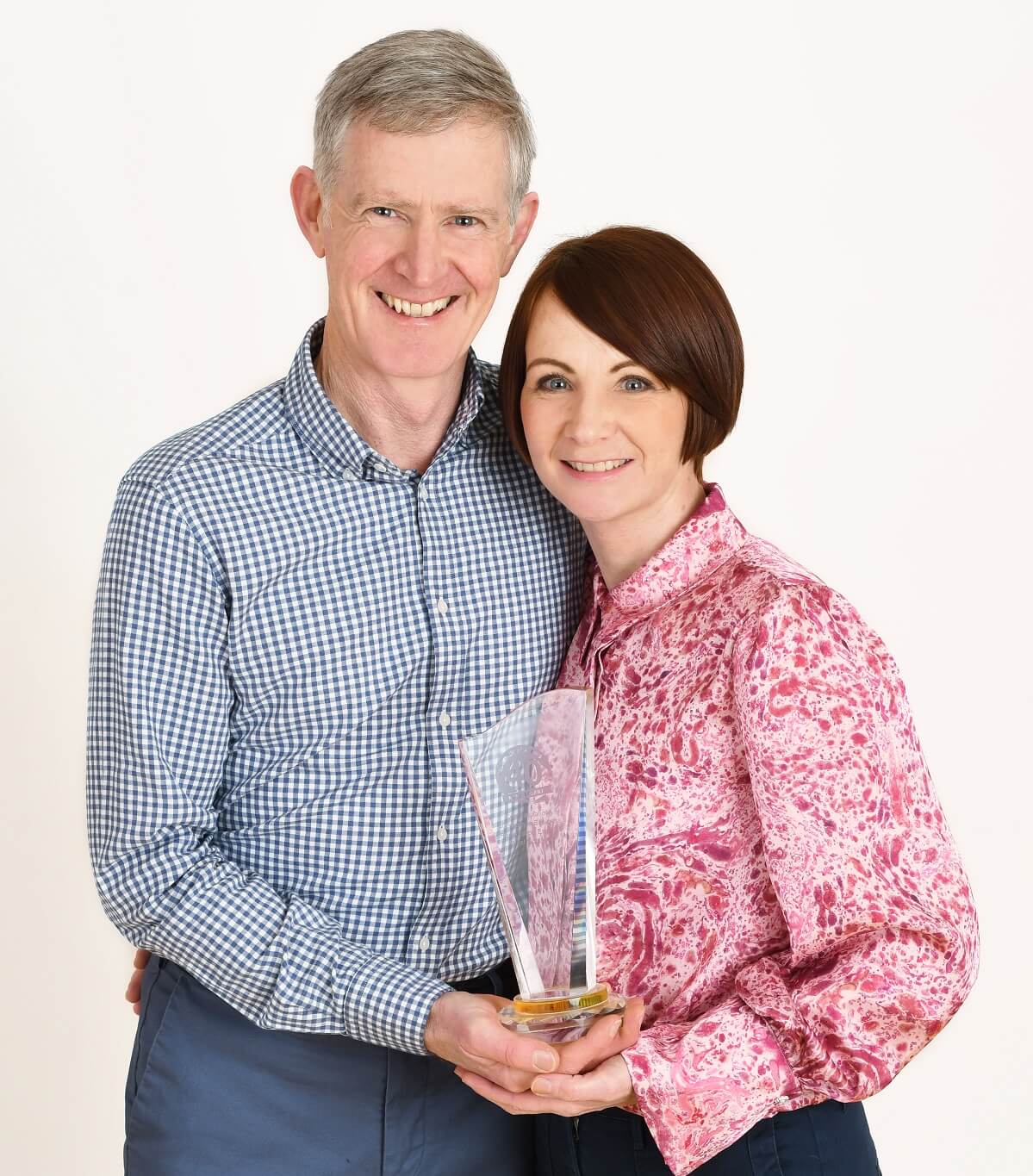 Husband and wife team Stephen and Ciorsdan Price first met over 30 years ago on a blind date organised by their respective cousins.
Now 37 years later, and recent recipients of a long service award, they work side by side running Recognition Express West Scotland, one of the top five performing businesses in the network.
Ciorsdan's mother Shonac McFarlane set up the business in 1981 , expanding in 1990 to take on the premises in Ayr that Recognition Express West Scotland still trade from today. Ciorsden worked part time there whilst she was attending college as Stephen pursued a separate career in the life and pensions industry before moving into a sales role with a golfing holidays company.
When it came time for the Mcfarlanes to retire in 2003, it made sense for Stephen and Ciorsden to buy the business as having worked there for xx years Ciorsden could see for herself it would be a good investment.
So how do the Prices cope with being together 24 hours a day?
Explained Ciorsdan: " I run the business day to day, manage accounts and also help out in manufacturing of badges. Stephen runs the promotional and clothing side of the business. We have always worked this way from day one as this is where our strengths lie. I did worry that working 24/7 together might be a big problem but I soon realised that we both had different strengths and that we would work well as a team - which we do!"
Ownership may have changed, but the commitment to delivering the highest level of service remains the same. Over 40 years on, Recognition Express West Scotland still holds the Scottish Prison Service and the NHS accounts, although Stephen and Ciorsden supply them with a wider range of products now. Said Stephen: "Consistently delivering first class service with fast response levels and reliable quality has been the key to growing the turnover of Recognition Express West Scotland. It sounds easy but it requires hard work and motivation. We take pride in ensuring we stay on the ball – we've never rested on our laurels."
Up until the late 1990s badges were Recognition Express' core offering, but as the new century approached the franchise added a whole new range of promotional items to the mix.
"Promotional lines had been introduced into Recognition Express in about 2000," said Ciorsdan. My dad spent a lot of time knocking doors in Glasgow trying to introduce the new range, so it was ideal for my husband Stephen to come in and build on his hard work with fresh eyes when we took over the business."
Nowadays promotional items account for 60% of their business with badge and other identity products making up the other 40%. The top selling products today are pens, notebooks, clothing and awards.
The Recognition Express West Scotland customer base is wide and varied with a good mix of private companies, local authorities, smes and charities. Said Stephen: "We know our customers and their order history and keeping an eye on this information enables you to spot trends that can help boost turnover. Our big public sector clients such as the NHS and prison service will often have new staff intakes at key times of the year so we will ensure that we send them details of our name badge or lanyard and workwear promotions when the time is right. Summer is a prime time for our private sector clients to be entertaining so this is our opportunity to promote our new corporate gift ranges. Knowledge is power!"
One of the advantages of running a franchised business is the support and back- up provided by head office. Said Ciorsden: "Support from head office has been invaluable to us and while we don't need to pick up the phone to them nearly as much as we used to in the early days, we know they are always there if we need them."
So what are the couple's plans for the future? "To continue on with what we're doing! We have always worked hard and tried to give excellent customer service. There are no days in this office!" laughed Ciorsdan.