Date Updated: 19-May-2017
Push supplier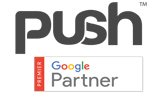 Request Details

Push
Push are dedicated to helping businesses grow through innovative online advertising and we are a Google Premier Partner.
There are only a handful of Google Premier Partners in the UK and this program connects Google's trusted and experienced AdWords partners with small, medium and large sized businesses that want expert help in creating, managing and optimising their online advertising campaigns.
In addition to in-depth AdWords expertise, we provide full-service campaign management, detailed reporting, one-on-one customer support and broad marketing guidance to help advertisers make the most of their campaigns.
Benefits of working with Push:
Push are a key partner for Google in the franchise marketplace and we have many successful case studies of growth across a range of franchise segments
Our campaigns help franchisors find more franchisees as well as providing a proven marketing system to help franchisees grow and find more customers and leads
Our marketing support has allowed many franchise businesses to grow quickly and expand into new regions and countries
We take great pride in being first to market with new ideas and our internal motto is Push will be – 'Always Ahead'. Managing so many businesses and advertising spend on Google allows us to benchmark performance and understand the bigger picture of changes and what is working well and should be implemented for more customers
As a Premier Partner we get first access to the latest in Google Beta tests which allows us to quickly deploy new marketing tactics. We have shown over the years that this rapid implementation helps our customers beat their competition
To request more information about our services or to have a free, non-obligatory chat, please complete the short form below: