Date Updated: 19-September-2016
V4Vans supplier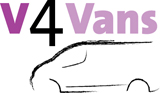 Request Details

V4Vans
V4Vans offer a truly "Turnkey" operation to the franchise market. We are not aligned to any one manufacturer but have terms in place with all major van suppliers in the UK.
Therefore it gives us the advantage of being free to discuss which make and model of van suits our client's needs the best. This can be a combination of price, weight capacity or simply image.
What we provide
There are many people who can supply a van for the franchisor and the franchisee. There are also many people who can offer the finance for the van and of course there are many people who can execute any internal fit outs and sign writing.
Where V4Vans have are unique is that we offer all of the above AND with many years' experience of dealing with the Franchise industry.
Many of our clients simply put a new or potential franchisee in touch with our offices and we will take the process through to completion, keeping the Franchisor in touch, every step of the way going down previously agreed protocols to ensure the Franchisee receives a vehicle, fit out and sign writing to the Head Office specification and standard.
Some of our Franchise based customers include:
Countrywide Signs
Granite Transformations
MAC Tools
...To name but a few.
To request more information about our services or to have a free, non-obligatory chat, please complete the short form below: