Date Updated: 20-September-2016
Franchise Finance supplier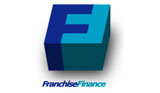 Request Details

Franchise Finance
Franchise Finance was established in 1979 and has an exceptional reputation as the franchise industries leading independent finance professionals.
The Directors, Chris Roberts and Stuart Walsh, have close working relationships with the sectors main finance and leasing providers and the team provide an independent, professional and seamless link between them, the franchisor and the franchisee.
We have a 95% success rate in raising finance and are active members of the British Franchise Association.
Our aims
Our core values are integrity and superior customer service. We build lasting relationships founded on trust and confidence in our expert ability to deliver the right financing solution to suit your needs.
These services start at the point where a prospective franchisee is looking to buy a franchise and run right through the life of the franchise until, where appropriate, a re-sale is sought and achieved.
A list of these core services is provided below and individual information sheets providing more details are also available.
Our core services
Arranging Finance
Professional Business Plans
Training Courses
Equipment Leasing Schemes
Business Health Checks
Preparing for Re-Sales
Testimonials
"With the help of Franchise Finance I've found a potentially daunting experience very easy. Thank you once agai;, I wouldn't hesitate in recommending you to other potential clients".
"Just wanted to let you know I met with RBS last week and again today. My accounts are all set up and finance is in place ready for me to call down when I'm ready. Many thanks for all your help it all went really smoothly with no problems at all".
Understanding Business Finance and Accounts' Courses
Franchise Finance runs business finance and accounts courses. The 'Understanding Business Finance and Accounts Course' is designed to help people with a non-financial background to understand the basic concepts of accounting and finance such as the difference between cash and profit, financial forecasts, balance sheets, ratios and breakeven analysis.
To request more information about our services or to have a free, non-obligatory chat, please complete the short form below: