Date Updated: 19-September-2016
ARC Media supplier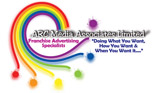 Request Details

ARC Media
Established in 2003 ARC Media Associates Ltd provide a full range of advertising, and advertising related, services. We specialise in, not only, franchisee recruitment advertising for franchisors, locally, nationally and on-line, but also in national awareness campaigns for your product or service - "If you can advertise in it, on it or around it, ARC Media can help"!
As an ARC Media client you are able to offer our services to your franchisees, as part of your franchisor support package. We can help them with booking advertising, to promote their service locally, or just supply them with advertising copy, as approved by you. We also offer a 'Brand Guardian' service at a very low cost.
Our Services include: Media Research, Media Planning & Buying, Product/Services Advertising, Cost Effective Graphic Design, which ranges from adverts and promotional materials, through to designing your franchise prospectus, or your exhibition stand.
Fiona Corallini – Sales and Creative Director
"I have over 25 years solid media experience almost exclusively within the national & regional media fields mainly within the Franchise & Business advertising arena, I bring a unique understanding and insight to your Franchisee Recruitment advertising and your Franchisee's advertising, something other agencies, who specialise in other areas, could well be lacking.
My team of dedicated professionals, and I, oversee all the day to day running of your account to ensure that you get the very best out of your advertising budget.
My clients to date have come mainly from the Franchise area due to my 13 years as Group Head of Franchising & Business Opportunities at Express Newspapers, but I also have extensive experience in Finance & Motors"
Sam Ferguson – Sales and Accounts Director
"I have has been with ARC Media since the beginning in 2003, planning, tailoring and co-ordinating advertising campaigns; providing draft advert designs for approval as well as booking your space at the best prices available. We are a great team and together we make sure that if, heaven forbid, any publication gets it wrong, we make it better; we also deal with any account queries and media enquiries leaving you free to run your business."
Toni Pottinger – Web Advertising Manager
"I started with ARC Media in 2005 and I help with the management of all clients as well as specialising in your online advertising needs. This includes creation of online profiles, designing your e-shots and monitoring lead levels and PR distribution. I manage everything web based and wield a very large stick on your behalf!"
To request more information about our services or to have a free, non-obligatory chat, please complete the short form below: