UK franchisee stories
Exclusive Interview: Wishing I had gone into franchising sooner!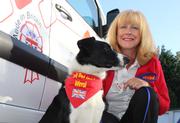 Despite dreaming of owning her own business, Sharon Leicester was reluctant to leave the well-paid job she had to go out on her own. Being made redundant in 2014, and with some redundancy money behind her, Sharon took the opportunity to explore the business start-up options available to her. After much research she decided on Trophy; a choice she has not regretted. Though she does regret not doing it sooner!
Read more..