Take control of your future with an award-winning franchise business
If you are tired of working for someone else and you are considering the risks of going it alone… then why not consider franchising? By running your own accountancy practice with TaxAssist, you receive professional training, full support and brand credibility from Day One.
At TaxAssist we offer franchise opportunities for Qualified and Non-Qualified Accountants; we are looking for individuals to become part of our successful network and who wish to develop and grow a business.
Want to know more? Request our FREE franchise prospectus here.
Is TaxAssist right for you?
Would you like to work with a franchise model based on very simple principles?
Looking for a company with over 20 years' experience?
Do you want to be part of an Award Winning organisation?
Does a strong and immediate professional profile appeal to you?
Do you want to work with a franchisor that works individually with its franchisees?
If yes... we may be a good fit for each other!
TaxAssist: An Established and Respected Brand
Founded in 1995, TaxAssist Accountants is the UK's largest network of accountants specifically servicing the small business market.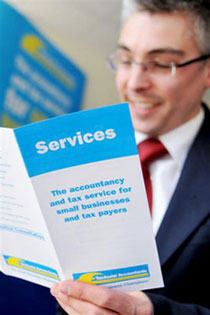 We have a network of over 200 franchised areas which service over 63,000 clients with a fee bank of over £42 million; this puts us 21st in the Accountancy Age top 50 league of UK Accountants, the only accountancy franchise to be recognised in the league tables. TaxAssist is also a Full member of the British Franchise Association and fully abide to the bfa's code of ethics. You can be sure you are in safe hands.
With the benefit of our highly professional and dedicated Support Centre team in Norwich and by following our thoroughly tried-and-tested business model, our franchisees are able to grow their business far quicker and more substantially than without us. We have continued to see double digit growth in and out of the recession where the accountancy industry has often stagnated or declined. Make sure you are joining the right franchise during these tough economic times.
How much is a TaxAssist franchise?
The Franchise Fee to join TaxAssist Accountants is £36,950 + VAT* which allows you to work from a commercial office and then, by the end of your third year, move to a shop front. Alternatively you can also open up a shop front from day one allowing your business to grow faster.
*We have a strong relationship with all major banks; they often fund up to 70% of your total financial requirements depending upon financial history.
What do I get for my investment?
Our award winning Support Centre offers a complete range of professional, experienced and qualified personnel to full support your business endeavours.
As part of your franchise fee, you receive:
Award winning Training and Technical support for you and your staff
Exclusive Territory
Business development and Marketing support
Licence fee
Operations Manuals
All accommodation for your initial training course and follow up training at months 3 and 6
Training Package
IT Equipment and Maintenance Package
And much, much more!
To see the full details of our franchise package, please complete the short form here to receive our information pack.
Looking to find out more?
Our Discovery Day allows you to learn more about our business model and the support that we provide to our network to see if joining us and having your own Accountancy Practice is for you.
The Discovery Days run from 10:00 am finishing at approximately 2pm.. You will meet the key staff at the Support Centre including our Executive Directors.
On the day we cover:
Our History
Network overview & case studies
The value of the franchise package
Our award winning training
Technical support & software
Bank funding
Marketing & business development
Business planning
1-2-1 meeting to discuss the franchise personally with you
The discovery days are not sales days, free to attend, and by attending you are under no obligation.
To receive our FREE franchise prospectus, please complete the short form below: