Scottish franchise news, latest from franchising in Scotland
Awards for Female Led Businesses in North East Scotland

Are you a female led business in the North East of Scotland? Think your business deserves recognition? Then enter the Business Women Scotland Awards North East!
Card Connection welcomes new Scottish franchisee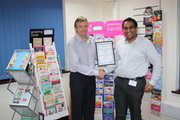 Card Connection is delighted to announce that Munawar Mohammed has joined their network by buying the North East Scotland territory. Munawar has taken over from the previous franchisee, Andrew Orr, who built up his successful business over 18 years. Munawar was previously working in sales and though he enjoyed his work, he decided that he wanted to directly reap the benefits of his hard work.
Scottish Mail Boxes Etc. franchisees reach new heights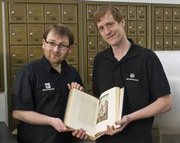 Mail Boxes Etc. Edinburgh has just celebrated their 10,000th antique shipment. The item was collected, packed and shipped safely to a very happy buyer in America. Mail Boxes Etc.The item was even shipped for free in celebration of the store reaching their 10,000th auction item.
Card Connection franchise is recruiting in Scotland!

Leading greeting card publisher and franchisor, Card Connection has today announced that it is 'recruiting in Scotland'. Card Connection currently has the re-sale franchises of Ayr/Kilmarnock and Edinburgh/Borders and Lanarkshire available in the region.
Card Connection to greet potential franchisees at the Scottish Franchise shows

Leading greeting card publisher and franchisor, Card Connection has today announced that it will exhibit at the Scottish Franchise Shows again this year.
Home Instead expands its presence in the Scottish Market

Award winning home care franchise, Home Instead Senior Care is expanding its presence in Scotland as it focuses on opening an additional 30 offices throughout the country over the next few years.
bfa puts Scots in pole position for franchising

Scottish Franchise Week 2014, the 11th annual celebration of the £700m franchise sector north of the border, proved another resounding success as it wrapped up at the beginning of May.
Aimed at raising awareness of the importance of franchising in the Scottish economy, the week involves a series of business and social events for those considering joining a franchise, for those thinking about franchising an existing business, and for the substantial number of professionals already working in the Scottish franchise sector.
Scottish Card Connection franchisee expands territory

Leading greeting card publisher, Card Connection has today announced that David Roseweir, franchisee for Stirling and Perth, has acquired the Dundee and Kirkcaldy territory from David Fyffe who now retires after 10 years as a franchisee.
Papa John's founder inspires UK franchisees

'Papa John' himself, John Schnatter, founder and CEO of leading Pizza franchise, Papa John's, has taken time to inspire UK franchisees during a whistle-stop visit to London last weekend.
Market leading home improvement franchise searching for Scottish retail partners

Dream Doors is now ready to recruit its first Scottish retail partners. If you've always wanted your own business, are driven by success, and would thrive in a dynamic sales environment, then this could be the perfect opportunity for you