Recognition Express franchise celebrates 30 years of business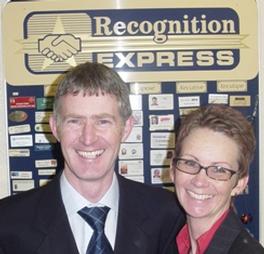 Recognition Express West Scotland was started in March 1981 by Harry and Shonach McFarlane, the mother and father of current owner Ciorsdan.
Ciorsdan bought the business with her husband Stephen eight years ago and since then they have seen it go from strength to strength, with the annual turnover increasing threefold.
Recognition Express is the UK's leading supplier of corporate gifts, promotional products, badges and branded clothing.
Recognition Express West Scotland started by making just badges, but over the years their product range has expanded dramatically.
"Harry and Shonach can hardly believe all the things we can make now compared to how they started 30 years ago," Stephen said.
"If businesses want their logo on something, we can do it. Badges have always been popular but today we can offer everything from pens to umbrellas, and of course branded clothing."
Recognition Express West Scotland work with a large number of small businesses, but have also got some bigger clients on their books including local authorities, the National Trust, Stagecoach and Calmacs.
Their Recognition Express territory is the biggest in the UK, stretching from Dumfries and Stranraer in the west to Falkirk, and also including the whole of Glasgow.
Stephen said that among the reasons for the success of Recognition Express West Scotland is the range of products the business offers as well as their great customer service.
Stephen said: "I think it's all about activity. We keep ourselves really busy, trying to give clients reasons to buy.
"You cannot wait for the phone to ring. We send clients new samples and visuals, they often like what they see and put in a new order.
"They know that we are a one-stop shop for promotional merchandise, anything that promotes corporate recognition for companies.
"The first 30 years of Recognition Express West Scotland have been great; here's to the next three decades."