Cartridge World franchise seeks budding entrepreneurs in Dundee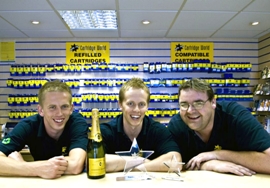 Flying in the face of the recession, an international franchise business is actively seeking budding entrepreneurs keen to start up successful businesses in the Dundee area.
Cartridge World, the UK's biggest retailer of refilled and remanufactured printer cartridges, is holding a Discovery Evening event on Thursday 25th June from 7pm at The Express by Holiday Inn Dundee on Dock Street.
Those attending will be given an overview of the business and the chance to meet the Cartridge World management team, as well as a franchisee, in an informal setting.
Cartridge World, which has its UK headquarters in Harrogate, North Yorkshire, is actively seeking new franchisees with professional experience who understand the basics of running a business, are keen to manage a team and ready to take on the challenge of building up a successful franchise.
Mark Holland, General Manager of Cartridge World UK, said: "As well as having management skills, it's crucial that anyone considering a Cartridge World franchise is a 'people person', since good customer service is at the heart of any successful store.
"With 20 years of history, Cartridge World offers a proven business model that works not only across the UK, but throughout the world. It is also well placed to continue growing both during and after the downturn since the products it offers represent not only value for money, but a green alternative to throwing ink cartridges into landfill.
"The team and I are looking forward to meeting any potential franchisees at the Dundee Discovery Evening."
Anyone interested in attending the event is invited to pre-register by calling the Franchise Sales team on 0800 2155 990 or emailing franchise@cartridgeworld.co.uk.
Cartridge World is running a series of 'Discovery Evening' events throughout the UK during 2009.