BIG MAC'S A WINNER IN HAMILTON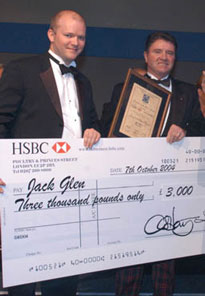 Jack Glen, a former British Rail employee, who now runs two thriving McDonald's restaurant franchises in Hamilton, yesterday won joint second place in a national business competition, backed by HSBC bank and judged by a panel led by former Prime Minister Margaret Thatcher's press secretary, Sir Bernard Ingham.
Jack (57) won the £3,000 runner-up prize in the British Franchise Association's (BFA) 2004 Franchisee of the Year Awards, sponsored by HSBC and supported by the Daily Express.
The award was presented to Jack by Cathryn Hayes, HSBC's national franchise manager, at a gala dinner at the ICC in Birmingham (7 October). HSBC has provided financial support and advice to franchisors and franchisees in the UK for over 20 years and has more than doubled its lending to the sector during the first half of 2004.
Speaking after the awards, Jack said: "I'm delighted that we've won this award, for me, for McDonalds and above all for the staff in Hamilton whose dedication and commitment to our customers have created a winning team. The fact that we've devoted a lot of time to working closely with the community and developing the skills of our workforce has certainly paid dividends."
In presenting the awards, Cathryn Hayes, national franchise manager at HSBC, said: "As a leading lender to the franchise sector, HSBC recognises that the hard work, enthusiasm and business nous of people like Jack will help turn a good franchise into a great franchise. He particularly deserves this award as his commitment to the development of his staff and the local community has made such a big difference to the success of his franchises."
As a result of his focus on customers and commitment to building a strong team of employees, Jack has seen his level of business increase nearly ten per cent above McDonald's national average.
He says that his satisfied customers keep coming back and that he has the highest level of repeat business within the chain. What's more, one of his restaurants was the only McDonald's in the UK not to receive a single complaint last year. He claims that this is down to the dedication of his 135-strong work force.
Jack claims that he is as comfortable working the fry station, as he is dealing with an operational report. He started in franchising after spending 30 years as a British Rail employee. He opted for redundancy rather than face a forced move to London. Intent on staying in Scotland, he first lectured for 12 months at the Caledonian University before meeting McDonald's at a franchise exhibition.
Jack says that his success is also down to the high level of training he received from McDonald's. He underwent an intense nine-month training programme, where he learned the operational side of the business at the sharp end.
As a result, Jack too has invested in the training of all his staff and recently achieved Investors in People accreditation within four months of his application.
The theme for this year's awards was "Beating the Competition – How Franchising Makes A Difference." The Awards are judged by a panel chaired by the British Franchise Association's president, Sir Bernard Ingham.
Photo: L to R - Jon Notley, classified advertising manager for Express Newspapers, Jack Glen, McDonald's