All the Signs Point Towards Success

The UK's Leading signs and graphics franchise, Signs Express, will be exhibiting on stand E30 at the forthcoming Scottish Franchise Exhibition 8th – 9th June. With over 80 centres across the country, Signs Express offers a comprehensive management franchise package with comprehensive training and ongoing support. Celebrating during Scottish Franchise Week their decision to join an established franchise are two of Signs Express' franchisees –Neil & Carol Fraser from Glasgow and James Bain, franchisee for the Dundee area.
Successfully growing a business has been a particularly satisfying and rewarding experience for Neil and Carol Fraser, who were awarded the franchise of the Glasgow area of Signs Express in 1995. They have continued to expand over the last 11 years and now service the whole of Glasgow, in addition to moving to new larger premises and buying some of the most advanced sign making equipment.
Carol said, "What has made the business work so well for us has been the continued support we've had from our Head Office including marketing, technical support, new products, new machinery, accounts and National Accounts. In the early days, not many people had heard of Signs Express, but it's well known nationally now. We are also well established here in Glasgow with our customer base extending beyond our expectations and plenty of referrals and repeat business."
Also experiencing the advantages of the extensive Signs Express package is James Bain, who opened his Dundee Signs Express centre in February of this year. An entrepreneurial self-starter, James has had vast experience, having worked at director level for a number of companies in the oil and gas industry before becoming a franchisee.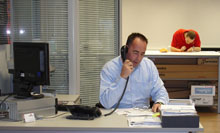 James said, "When I decided that I wanted to buy a franchise I had a defined set of requirements already in place. Whilst researching my franchise choices, the Signs Express package really stuck in my mind as they were the ones that time and time again, ticked all the boxes for my needs."
"I was very impressed with the level of support available to the franchisees, and also with the great enthusiasm for the business shown by the directors and staff at the Norwich Head Office. I took time to visit some existing franchisees nearest to my location and all had strong and continued enthusiasm for the business - many still growing strongly after over 10 yrs of trading."
Each Signs Express franchisee takes part in a comprehensive training course covering all areas of the business and receives ongoing support and advice from a dedicated team of over 25 industry professionals at the Head Office; covering all disciplines including technical support, accounts, marketing, IT and operations.