LANARKSHIRE WELCOMES FURNITUREPRO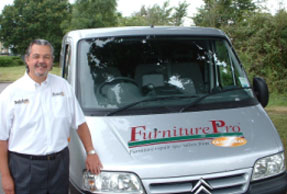 FurniturePro, one of the UK's leading furniture repair and restoration companies, has launched a new franchise in the Lanarkshire region. Martin Speck has joined the company and will be offering a range of repair and restoration services to upholstery, wood and leather furniture.
Martin, who previously worked as a Property Refurbishment Manager, decided to join FurniturePro as it provides him with the opportunity to develop a business doing something he enjoys. Explains Martin, "I have always had a keen interest in furniture and DIY and restoring furniture to its former glory whilst I have always wanted to manage my own business. FurniturePro is the perfect company to carry this forward."
As a FurniturePro professional, Martin will be offering specialist services for upholstery, leather and wooden furniture. These include scratches, dents, burns and re-finishing to wood; rips and colour matching to leather and re-stitching and re-upholstering to upholstered furniture. Adds Martin, "I have a range of high quality products to carry out the repairs which all adds to the service on offer to customers."
"My focus will be on delivering the complete service to my clients, from briefing them on my initial visit to their home, to ensuring that the work carried out is second to none. I can't wait to get started!"
Paul Roberts, Franchise Operations Director for FurniturePro, said: "Martin is a valuable addition to the FurniturePro team. His extensive management experience and the skills he has acquired throughout an intensive four-week training programme will ensure he provides an excellent service to his customers and carry the FurniturePro brand forward. I wish Martin every success for the future."
For more information on the services that Martin and FurniturePro can offer, please call Freephone 0808 143 1307, email martinspeck@furniturepro.co.uk or visit the website at www.furniturepro.co.uk