Barking Mad Fife is not just our business, it's our way of life!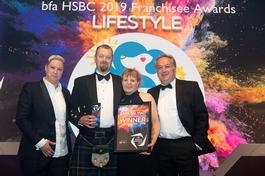 John and Elaine Warburton, partners in both business and life, started their Barking Mad journey in 2014 and have recently scooped a top title at the 2019 bfa HSBC Franchise Awards. The pet mad pair from Fife in Scotland, were named the Lifestyle Franchisee winners at a glittering ceremony at the Vox, Birmingham.
Self-confessed, ex 'wage slave commuter' John explains,
"Becoming British Franchise Association winners is a fantastic recognition of our efforts. With Barking Mad, we feel that we have really achieved something special. This has had a massive personal impact for us both but particularly for Elaine, really increasing her sense of self-worth.
Our Barking Mad journey began when we heard our local franchise was for sale. We jumped at the opportunity to change our lives and haven't looked back. Flexible working hours were a must, to allow us to care for our daughter and furry family!
As animal lovers, the concept of home-from-home dog boarding held huge appeal. The franchise system's tried, tested and proven operating procedures were a major factor in our decision, along with the training, support and potential for growth to an impressive six figure turnover."
Former Marketing Director John keeps a keen eye on the figures but Elaine, an ex WPC and fitness instructor who felt unfulfilled in her previous career, also counts doggy cuddles as part of the profits! The husband and wife team seamlessly weave professional and personal responsibilities together to create an enviable lifestyle.
When asked how running an award-winning dog care franchise had changed their lives, Elaine said,
"Running our business isn't a job but a way of life! There isn't a typical day, just typical activities to complete whilst striving to implement excellence."
John and Elaine have achieved a cumulative turnover projected to be £400,000 in just five years and aspire to grow their business to a level where they can recruit more staff.
Find out more about buying a Barking Mad franchise in Scotland