Taking control of his own future with Agency Express Falkirk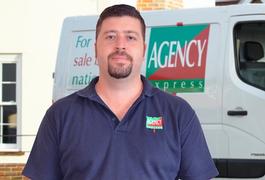 Name: Alex Sunjich
Franchise Territory: Agency Express Falkirk
Year Joined: 2015
Alex Sunjich launched his Agency Express franchise in August 2015. Moving from a career in the petrochemical industry, Alex decided to take control of his future and fixed his sights on owning a franchise business.
Prepared with a list of prerequisites Alex set upon the journey of becoming his own boss. After extensive online investigation and attending The Great Northern Franchise Exhibition he decided that the Agency Express franchise opportunity met his requirements.
I wanted a van based business where I could work on my own. Something that was simple to operate with minimal paperwork but ultimately have a good turnover.
After successfully completing the Agency Express comprehensive 5-day training course, Alex he was assisted in the launch of his new business. This included a detailed 3-day programme of visits to estate agencies in his local area, enabling him to make first contact with customers. During this time Alex exceeded expectations, and was on target to accomplish his goal of running a successful franchise business.
I really enjoyed the Agency Express training programme, it was very helpful and transparent. Everyone at Agency Express was friendly and I felt part of the team from day one.
Within the first-year Alex's business grew from strength to strength. His patient approach in acquiring business and high standards of work played fundamental part in his success. He established a solid base of customers and today continues to grow the business further.
Starting your own business is hard work but rewarding. How much effort you put in will determine what you get out. I've learnt that the key is keeping communications open and to not afraid to ask questions or ask for help. That is the benefit of buying a franchise business, you have ongoing support when you need it. The part I enjoy most about having my own business is I control my own hours and I work for myself. There is no limit on how far I can take the business.
The key to Alex's success has been consistency and drive. His second to none approach and can-do attitude helped him a achieve a thriving business with increasing demand 4 years on from inception.