Exclusive Interview: "Home care franchises is clearly a growth market in Scotland"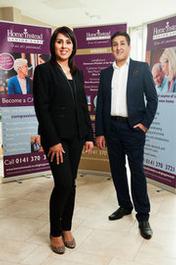 Name: Suhail Rehman
Location: Glasgow North
Franchise: Home Instead Senior Care
Date launched the franchise: September 2013
Tell us a bit about yourself and what you were doing prior to buying your Home Instead franchise business?
My background was in software business. For 15 years I was a director of a mobile technology company and had helped build the business to a large concern which at one point employed over 400 staff worldwide and remained headquartered in Glasgow. I had sold my shareholding and after taking a few years out I was looking for other business and investment opportunities.
Why did you go down the franchise route? What made you choose the senior care industry? And why a Home Instead franchise?
I was looking to come back into business in a more structured environment. We were in the midst of the recession and the fallout from the financial crash. I didn't want to take any risks and investigated coming back into business through a franchised route to reduce the risk.
I looked at various franchises particularly fast food operations but couldn't identify the right opportunity or franchise which I felt lent itself to my business experience or skills.
A good friend then mentioned the elderly homecare market and after researching the demographics I realised that this was a huge growth area. Although some homecare franchises existed at the time I was particularly impressed by the model deployed by Home Instead Senior Care.
I was particularly impressed by the dedication of the company's UK master franchisor and the great growth they had demonstrated since entering the market some 10 years ago.
How did you raise the finance for you franchise?
Finance was raised through a combination of personal and bank funding.
What training and support did you receive initially and ongoing?
The initial training and support received was second to none. Over the course of the first six months the training and support is very intensive and our office setup and staff employment was carefully monitored and closely supported. I had no prior operations knowledge of the homecare market and found the support to be invaluable.
Home Instead is primarily a management franchise and the support is continued as you grow your business through a dedicated Business Performance Manager whom you meet on a quarterly basis. The ongoing support is further augmented by annual regional meetings and national conferences which provide peer support.
What is a typical day for you as a Home Instead franchisee?
As in any small business no two days are the same. Initially you will have to do everything yourself until you start building your office team. A typical day will start with a morning huddle with the office team to overview the day's events. These will include meetings with potential new clients, review meetings with social workers, interviews with potential CAREGivers and organising CAREGiver training. We now employ an excellent office team of seven and have over seventy CAREGivers in the field.
Subsequently most of my time these days is spent on overseeing strategy and direction of the business and planning marketing, advertising and PR activities for the company.
What challenges have you faced?
The private homecare market in Scotland is still in its early stages and ripe for growth as elderly demographics increase in our direction. The biggest challenges we face are lack of knowledge that our services exist and that private homecare is a viable option to residential care homes.
As people grow older many prefer to stay in the comfortable and familiar environment of their own homes and with our brand of personalised homecare we can make this happen.
Has becoming a Home Instead franchisee changed your life, if so how?
Yes, I can easily say this is the hardest I've worked in my life! However, the satisfaction of building your own business together with the opportunity of meeting so many great clients and family members makes it all worthwhile.
What is the most invaluable piece of advice you could give someone looking to buy their first franchise?
There are an increasing amount of franchises in the market today and it can be difficult to differentiate the good from the not so good. Always investigate the type of support you will be given and how closely the franchise model aligns with your own interests. If you're not a people person then homecare wouldn't be for you.
I also think it's very important that you have a partnership approach to business and treat the relationship with your franchisor as an equal partnership. In some franchise sectors the business model will be very rigid and this type may suit people who like to follow a formula to achieve their results. However, in others there will be scope for more entrepreneurial involvement and it's important to identify which model works best for you.
It's also important to speak to other franchisees. This is the acid test and they will often tell you things the franchisor may not disclose.
In your opinion, why is Scotland a great place for franchising?
Franchising is clearly a growth market in Scotland. Out of over 900 franchises in the UK only around 500 currently operate in Scotland. This represents a great opportunity for potential franchisors and franchisees looking to enter the market and tap Scotland's vast entrepreneurial and management wealth.
What qualities do you think make a successful franchisee?
Over and above anything else it would be hard work. There is no silver bullet (believe me, I searched for many!) and you will have to put the hours in to build your business. The initial years will be tough as you break into your territory and build the brand locally.
Resilience and patience are the most important personal qualities to possess as you will suffer setbacks before the green shoots start to break through.
What are your plans for the future?
Last year my wife, Tasnim, bought her own Home Instead Senior Care territory, inspired my own franchise success with the brand. I operate in Glasgow North and she has the Glasgow South territory, so we are territory neighbours. Over the next five years we will continue to build both operations and take stock at that point.
To find out more, why not immediately download Home Instead's free and non-obligatory franchise prospectus here.