Redundancy led to franchising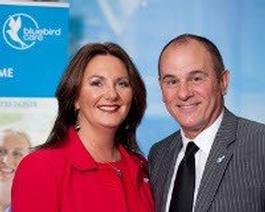 John and Jane Perry are franchisees for Bluebird Care Edinburgh and Glasgow South. After the threat of redundancy loomed over them in their previous jobs, John worked in sales and Jane an accountant, they decided the time was right to look at what alternative career opportunities were available to them.
They knew they wanted to go into business for themselves but doing what was the stumbling block. Homecare had always been in the back of their minds as they had witnessed first-hand a poor standard of care when looking for home support for a family member, and so knew a gap in the market existed. That, and the knowledge that an aging population means the homecare support industry is one that is growing and sustainable, led them to further explore this market.
They did a lot of research into the opportunities but it was Bluebird Care that really stood out for them, "We looked at several care franchise companies but were really impressed on meeting with the Directors of Bluebird Care and the whole decision to join the network just seemed right to us. We liked the business model, and the support that the company offered."
John and Jane are delighted with their choice and pleased in the direction it is going. They already have a team of 120 care worker, and with plans to continue building their customer base, they hope to grow the team further. They have also won a number of awards including the "Franchise of the Year award 2011". The biggest achievement for them is the difference they make to their customers lives, "the job satisfaction comes from knowing you are making a difference; putting a smile on customer's faces and receiving some great feedback and notes from satisfied customers. "