Interview with Frank Sutherland of Autosmart International, Aberdeenshire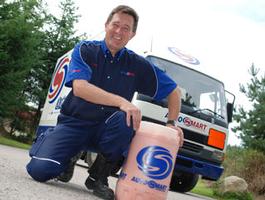 Name: Frank Sutherland
Location: Aberdeenshire
Franchise: Autosmart International
Frank Sutherland, Autosmart franchisee for Aberdeen, is celebrating after being shortlisted for franchisee of the year award by the British Franchising Association. Frank will present to a judging panel on 16 & 17 July, with winners crowned at a lavish black-tie dinner hosted by Steph McGovern on Thursday 2 October at Birmingham Town Hall.
I always wanted my own business. Choosing franchising enabled me to hit the ground running as it is a tried, tested and trusted formula which allowed me to earn from day one. I chose Autosmart because they were able to thoroughly demonstrate how they fully support your business not only at the start but on an ongoing basis. I also love cars so that was the icing on the cake.

Prior to Autosmart, I worked in supermarkets since leaving school and I worked my way up to Operations Manager controlling 25 plus stores. This experience has helped without a doubt. Even though my background wasn't in sales, it didn't matter because Autosmart provided full training and support.

How did you raise the finance?
In order to raise finance to invest in an Autosmart franchise I used the last of my redundancy package and borrowed the rest via an overdraft facility that Autosmart helped me apply for.

What training and support did you receive initially and ongoing?

Autosmart provided superb training and support from day one. Initially, I spent one week at their training academy learning the system and I was also supported out in the field two days a week by my area manager. However, I still get the same high level of support when it's required.
I look upon my area manager as my personal business consultant and coach. We have regular meetings and Autosmart also help with personal development if we wish it.
What is a typical day for you as a franchisee?
I love and I am passionate about my business. I arrive at my first customer roughly around 7.00 am. I make sure that I visit as many as 20 customers a day and make as many sales as possible.
I am back at my warehouse at around 6.00pm and spend about an hour replenishing the showroom.
Although a lot of my customers are from the automotive industry I have many from all sorts of industries. Every business has something to clean and we have the right solutions.
What challenges have you faced?
A Lot! The challenges that I have faced are mainly due to rapid sales growth. Managing cash flow at the beginning was difficult. Thankfully I had all the support that I needed from Autosmart and my bank. I have had to increase warehousing twice and set up an additional base on my patch to optimise my time. I plan my routes around my two warehouses and this reduces my mileage
Has becoming a franchisee changed and realised your life, if so how?
Becoming an Autosmart franchisee has dramatically changed my life. I came from a redundancy situation and now I run and own a successful business.
Financially it is super, but more importantly I have complete control of my life. I have never been happier. Although I work hard, I think I play harder.
What marketing/promotional tools do you use to grow your franchise?
Autosmart are recognised in the trade as top in their field. With over 35 years of experience, everyone in the industry knows who we are.
My Autosmart /Showroom is my mobile shop and my best marketing tool. Recently I have started using Facebook as an additional tool. Last week I won over £400 of new business just by people recommending me and the products.
What differentiates your franchise from the competition?
Quite simply "me". I really only consider myself to be the competition. I can deliver outstanding personal service. I've always tried to treat people as I would have them treat me. I reflect this through my business relationships. This, together with my product expertise developed with Autosmart, makes me feel invincible. It's great to be able to provide a solution to someone's problem.
In your opinion, what makes a successful franchisee?
In my opinion, to be a successful franchisee you definitely need a strong work ethic and the bulldog tenacity to follow the franchise model. I think you also need resilience to get back in the race after you had a knock.
What advice would you give to someone thinking of buying their first franchise?
I would research the franchise to make sure that it's right for you. Choose one that can demonstrate that they are fully supportive of their franchisees. Speak to existing franchisees and listen to their experiences too.
What are your plans for the future?
I want to drive my turnover to exceed a £1m. If the opportunity comes along I would like to increase my territory. Retiring is not on my radar. I am having too much fun right now for that.
Would you do it again?
Certainly! I only regret that I didn't do this earlier in my career.
To read more about the Autosmart franchise opportunity, please click on the link below. To read about their recent success at the bfa HSBC Franchise Awards here