Father and son open Drain Doctor franchise in Glasgow and Stirling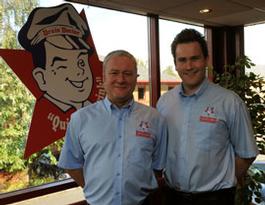 Football playing father and son Jimmy and Andrew Smith are setting up their own plumbing and drainage business to service the north of Glasgow and Stirling as part of the national Drain Doctor network.
The two men have taken on a Drain Doctor franchise which means that although they will be running their own company they will have the backing of a national organisation.
Jimmy describes the decision to go into business with his son as "a coincidence of timing". He has recently retired from running his own property business (after a previous career as a publican) and Andrew has just left Glasgow Caledonian University where he studied construction management – and then stayed on for a further year as vice president of the students' association.
"The combination of business and practical skills arising from Jimmy's experience and Andrew's studies and post-graduate work make them an ideal team for a franchise," says Jan Mitman, franchise sales director of Drain Doctor Plumbing.
Both men will initially be undertaking plumbing and drainage work themselves but they have already recruited their first technician to work with them. They aim soon to have a number of fully-equipped vans and fully-trained technicians, allowing them to devote their attention to managing and growing the business.
Jimmy says: "Things came together at just the right time as Andrew left university. I was getting bored in retirement and am looking forward to getting back into business."
The two will offer emergency plumbing and drain repairs in the north of Glasgow, Stirling and the towns and villages between.
While researching various business opportunities Andrew and Jimmy were struck by how much more support they would get as part of the Drain Doctor network, rather than working entirely on their own.
Andrew says: "Drain Doctor has a proven system that offers a largely recession-proof opportunity where we can still be independent operators running our own business but with all the back-up that comes with being part of a large national organisation.
"We aim to give businesses and householders in Glasgow and Stirling the same 'dazzling' level of service in plumbing and drainage which Drain Doctor provides across the rest of the country.
"Our customers get fixed-price, no obligation quotes, a complete guarantee on all our work, and a full 24 hour per day seven day per week service with no call out charges – so people pay the same price for work at any time of day or night. What's more, we turn up at the agreed time!"
Both Jimmy and Andrew are keen footballers. Andrew was responsible for sports as vice president of the university students' association and Jimmy is a qualified coach and referee.
Launched in the United Kingdom in 1993, Drain Doctor Plumbing quickly grew to become the country's largest emergency plumbing and drain repair service. It now provides a 24 hour a day, 365 days a year service across the country with each franchise area such as Glasgow and Stirling run as an independent business.