From Business Franchise Manager to Cafe2U franchisee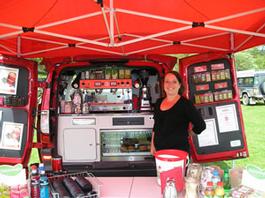 Faye Cochrane was the Business Franchise Manager of BeanScene, the number one coffee house focusing on music and atmosphere in Scotland. She loves coffee, always wanted to be her own boss and took just four months to begin her journey as a Cafe2U franchise partner.
Cafe2U is the world's largest mobile coffee franchise system and their franchise partners are reaping the rewards of the fast-growing coffee industry by providing the highest quality espresso coffee, hot chocolate, premium teas and complimentary snacks to people in non-traditional locations including workplaces and events.
Faye, Cafe2U's Edinburgh Franchise Partner, explains how the Cafe2U franchise has built to a successful multi-van business.
"My husband has been buying his coffee from a Cafe2U van every lunchtime for some time now, so when we were discussing which franchises I should consider in my search to start my own business, we knew Cafe2U was a strong contender. It is important that whichever franchise you choose has a product or service that you are completely confident in selling day-in-day-out.
"I started working in the hospitality industry at the age of 13 and have worked in the food and hospitality sector ever since. I have always wanted to start my own business but the recession meant that it wasn't a good idea to start a business from scratch; I liked the idea of the support from a franchise's head office.
"I loved the idea of being completely mobile but with the barista quality coffee and all the equipment that it requires all built in to the bright red Cafe2U van. After signing the franchise contract, I spent 2 days training in Leeds at the Cafe2U head office. I took my first van out in June 2008 and since then the Cafe2U head office has provided ongoing support via phone and email and I receive regular quarterly visits from a member of Cafe2U team.
Faye now owns three Cafe2U vans and celebrated her third year as a franchise partner by enjoying a record day on one of her vans recently with coffee sales up from the average by a whopping 58% for the day!
"My customers include HSBC, Tesco Management Offices and JP Morgan in my Edinburgh Park territory. Each van has regular stops every day but I also have some regular management and marketing tasks each week. The usual bookkeeping activity won't come as a surprise to anyone but I also produce a weekly newsletter for my customers and award someone with free coffees for a week each week; my promotions build customer loyalty and bring new customers to the van on a daily basis.
"If anyone was thinking of buying a Cafe2U franchise I would say 'Go for it!' but remember that running your own business is much harder work than you think – your success is your responsibility.
"The business is now thriving with 3 vans on the road across Edinburgh North, Livingston, Edinburgh Park & South Gyle and I plan to increase this and build each van's income to the great level that mine achieves!"
If you would like to know more about Cafe2U, why not join one of our Discovery Days? You can register by calling 08456 444708.