Ovenclean's Jamie Oliver competition prize boost for franchisee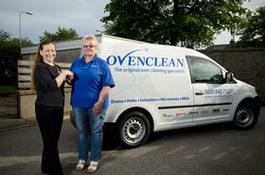 Lillian Shand, Aberdeen based Ovenclean franchisee, has received a boost to her local profile after presenting a top of the range SMEG microwave to the delighted winner of the national Jamie Oliver competition prize run by Ovenclean.
Ovenclean ran a high profile competition on the popular JamieOliver.com website, which generated almost 5,000 hits on the UK's leading domestic oven cleaning specialist's own website.
The lucky winner of the SMEG microwave was Margaret Fernie in Aberdeen. Lillian Shand, Ovenclean franchisee in Aberdeen personally delivered the microwave to her.
Lillian said: "She was absolutely delighted to have won the microwave, it was great to put a smile on someone's face. It also gave me the opportunity to give her some discount vouchers to pass on to her friends and family.
"She's never had her oven professionally cleaned before so competitions like this, especially something as high profile as Jamie Oliver is a great opportunity to spread the word about Ovenclean and generate more business."
The competition, to win the top of the range SMEG microwave, was part of Ovenclean's 'great cooking starts with a clean oven' campaign, which is aimed at raising brand awareness amongst consumers and driving increased numbers of leads to the franchise network.
Ovenclean has also been featured in the JamieOliver.com newsletter, read by over 35,000 people.
Anne Blee, marketing director of Ovenclean, added: "As a result of this latest marketing activity, we have substantially increased our database and are delighted with the positive feedback we have received from our franchisees."
Ovenclean has also been appearing in national home interest magazines, including Period Ideas and BBC Homes & Antiques, and has created a series of fresh new consumer ads in co-operation with Worcestershire based Hatt Kitchens.
Ovenclean is the longest established and most successful oven cleaning franchise in the UK, providing specialist oven cleaning services on a regular, repeat order basis, to a large, virtually untapped marketplace, including not only domestic customers, but also commercial work such as schools, lettings agencies and hotels. Franchisees operate from professionally liveried vans and so benefit from low overheads and high flexibility. The top quality, powerful yet eco-friendly Ovenclean product range, exclusive to franchisees, effectively cleans ovens and hobs, Agas, ranges and barbecues, restoring them to pristine condition within a matter of a few hours. The proven business model is easy to learn, simple to manage and delivers a high earning, flexible lifestyle.