Dream Doors Franchise Scotland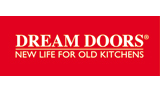 Request FREE franchise prospectus

Looking for a franchise where you can earn a SIX FIGURE INCOME?
Dream Doors is now looking to expand their Scottish network
What are you looking for in a franchise?
To escape from your current employment?
To be the boss - and be in control of your future?
To enjoy a fresh start after redundancy or retirement?
To earn a high income - and build an asset to sell?
To spend more time with your family, or work closer to home?
You can have all of this running your own Dream Doors franchise.
So, who are Dream Doors?
With 60 showrooms across the country, Dream Doors is the UK's largest and most successful kitchen facelift retailer.
There are many reasons why the Dream Doors management franchise is built for your success. Importantly, our brand is built on ethical trading, integrity and award-winning support. We are:
Full members of the British Franchise Assocation (bfa)
Winners of the bfa's Brand Builder of Year
THREE time finalists in the bfa's Franchisor of the Year Awards
Winners in the government-backed National Training Awards
EIGHT time winners in the Franchise Marketing Awards
Accredited by the independent monitoring scheme, Checkatrade

Why is there so much consumer demand for Dream Doors?
A kitchen facelift is popular with customers for three key reasons:
It saves money – typically half the price of an average kitchen
It saves time – it can be fitted in just a day or two
It saves upheaval – which means much less mess in the home
And with 80% of customers in their 60s or older, Dream Doors has a core customer base that is growing, that is less affected by economic uncertainty and has disposable income to spend.
No kitchen experience needed. Why? Because, you'll never have to fit a kitchen!
Working from home to begin with, you'll be managing your own Dream Doors showroom within six months. Everything we do is geared up to getting you selling and making money as quickly as possible.
Dream Doors helps you find the perfect kitchen installation team, who will typically work for you on a sub-contracted basis.
That means you can focus on what you do best – meeting customers and running your business.
Average annual sales from a franchised showroom is now £500,000. With your commitment and determination, and our proven business model, you can achieve more than £1million in yearly turnover and earn a healthy six-figure income.
And remember, it really doesn't matter what you do now or what you've done before. Lots of new Dream Doors franchisees have sold more than half-a-million pounds in their first year, including teachers, police officers, IT workers and retail managers.
What happens next?
Are you serious about running your own business?
Do you want to be part of the biggest name in its sector, and benefit from award-winning training and support?
Do you want to earn a six-figure income (some franchise owners have achieved that by year two, lots of others by year three)?
If you are motivated, resilient and comfortable in a managerial role – and you have liquid capital of at least £30,000 to kick start your new business – our team would love to hear from you today.
For more information about this exceptional franchise opportunity, please complete the short form below: