New Drain Doctor franchisee will cater for Central London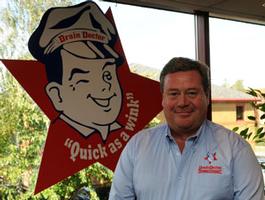 Plumber and businessman Ian Robinson has joined the Drain Doctor network. Ian has taken on the Central London franchise business of Drain Doctor Plumbing offering emergency plumbing and drain repairs in the City, Barbican, Mayfair, Chelsea and Bermondsey.
Ian has extensive experience in general business and in the plumbing and drainage industry in particular. Ian's early career was in the motor trade where he spent 20 years honing his sales and marketing skills. He then re-trained and went on to own a franchise with another plumbing and drainage franchise business before leaving the industry to go into catering. Ian still owns the Orange Tree café in Hitchin, Hertfordshire.
Recently however Ian was looking to expand his business interests so he decided to build on the skills he had learnt as a plumbing technician. Six months ago he started his own plumbing and drainage business.
Ian soon realised that he would need to expand the plumbing business beyond his local area to make it work. He said: "As a one man band it is difficult to gain the large commercial accounts needed to complement the domestic work and grow the business. Health and safety also becomes an issue because many businesses now require risk assessments and appropriate health and safety standards.
"Health and safety is a minefield but as a national company Drain Doctor is able to provide plenty of support and accredited training."
While researching various business opportunities Ian was struck by how much more support he would get as part of a large national organisation, rather than working on his own as a small independent contractor.
He said: "Drain Doctor has a proven system that offers a largely recession-proof opportunity where I can still be an independent operator running my own business but with all the back-up that comes with being part of a large national organisation.
"I looked at other businesses for sale but you don't get the same support that you do with Drain Doctor. With some other businesses you are left on your own. Drain Doctor also offers great contacts with its national account network that will help me to develop and grow the business.
"We aim to give businesses and householders in Central London the same 'dazzling' level of service in plumbing and drainage which Drain Doctor provides across the rest of the country.
"Our customers get fixed-price, no obligation quotes, a complete guarantee on all our work, and a full 24 hour per day seven day per week service with no call out charges – so people pay the same price for work at any time of day or night. What's more, we turn up at the agreed time!"
Ian will start the business with one van and a technician but he intends to continue to expand and plans to have another fully-equipped van and technician on the road within a month.
He will run the office with the help of his wife Fiona and, in what spare time he has, Ian will continue to enjoy caravanning and camping. He said: "I don't think I'm going to have much time to go travelling around the country now, at least not until we get the franchise established and a few more technicians on the road."
Launched in the United Kingdom in 1993, Drain Doctor Plumbing quickly grew to become the country's largest emergency plumbing and drain repair service. It now provides a 24 hour a day, 365 days a year service across the country with each franchise area such as Central London run as an independent business.