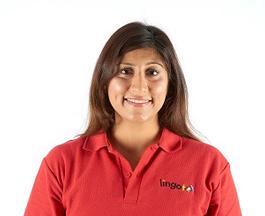 Name: Priya Purryag
Franchise: Lingotot
What's your career background – what did you do before you joined Lingotot?
Prior to Lingotot, after graduating in International Management in French from UMIST (University of Manchester, Institute of Science & Technology), I joined the Royal Bank of Scotland and spent 10 years working in commercial roles in the world of Insurance and Banking. After the birth of my son, I decided to gain new experience and switch industry and I joined the third sector. I secured a senior commercial role in a renowned International Charity and spent over five years managing and developing products to help companies, individuals and charities themselves, donate funds to the charitable sector in a safe and secure manner.
How did you first hear about franchising and what made you choose Lingotot?
I had reached a pivotal point in my career, where I had been considering opportunities to run my own business and become self-employed for some time. I also wanted something which would enable me to use my linguistic skills, channel my creativity and apply my years of commercial experience.
For me, franchising was the perfect answer to my entrepreneurial aspirations, and I had been searching for the right franchise including using the BFA and also attending open days. Franchising gives me the security of working with a successful and thriving business but also allows me to operate independently in my own territory. Not only can I run and make my own decisions, it is up to me how I grow and shape my business.
When I came across Lingotot, I knew this was the perfect choice for me. Lingotot offers a fantastic business model where teaching, flexibility and languages come together to offer unique learning opportunities for children from a young age. I was really impressed by the award winning and high quality Lingotot brand and the different revenue streams available for franchisees. What made Lingotot even more appealing was the accredited teacher training qualifications for new franchisees to complete. This gave me great confidence and showed to me that the learning and development of franchisees was really important for Lingotot.
How does Lingotot fit into your daily life?
If I think of my life as a jigsaw puzzle, Lingotot is the missing final piece! Lingotot enables me to run a professional and rewarding business but also maintain a great work / life balance at the same time. I am able to teach my classes in between fitting in the school run and also ensure I can support and help my son with his homework and after school activities. This may mean that when he's fast asleep, I continue working in the evening, but this is something I look forward to doing!
What have been your challenges and highlights so far?
My highlights so far have been working with my neighbouring franchisees so that Lingotot Southgate can meet customer demand and offer Spanish sessions (I am only fluent in French) as well as French from the outset.
I would also say my main highlight has been Lingotot Southgate's launch party. To celebrate the launch of Lingotot Southgate and give local families the chance to experience a morning of interactive fun and learn all about Lingotot, I held a launch party at KB02 in Palmers Green. The event was attended by over 40 children and their parents. Children participated in a Little Lingotot French and Spanish taster class and expanded their learning with a range of language activities. Parents also had the chance to be involved by taking photos in the Lingotot photo booth plus enjoy the raffle prize draw with plenty of Lingotot goodies.
As I don't come from a teaching background, I would say my main challenge has been learning about how the education system and schools' infrastructure works. However, the support I receive from Lingotot including the various webinars and resources gives me the confidence to start approaching schools directly in my area, so that I can offer Lingotot lunch or after school clubs.
What are your future goals?
- Providing and maintaining excellent customer service
- Building my brand presence and equity in my territory
- Business growth:
o Increasing the number of customers attending my community classes
o Working with new nurseries
o Approaching schools to offer lunch and after school clubs
- Complete my Diploma in Teaching Primary Languages so that I can offer PPA cover in the future
What advice would you give to other people looking for a franchise?
Research, research and more research! To make sure you and the franchise you select are a perfect match, make sure you do your research. Review the different packages and revenue streams available, understand the brand and its presence in the marketplace. Look and compare with different competitors so that you can identify any unique features but also if anything is missing.
Speak to the franchise founder and ask as many questions as possible. Also seek out the opportunity to speak to existing franchisees and also shadow one or two to see how the operation works on a day to day basis.
Lastly, I would say rely on your instincts, you will know when you find the franchise that is best for you. I knew pretty quickly, early on in my investigations, that Lingotot was the ideal franchise for me and I'm pleased to say I was absolutely right!
Learn more about franchise opportunities across the UK with Lingotot here!
Read more on a Lingotot Franchise