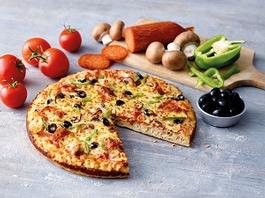 Leading pizza franchise, Papa John's, has announced franchisee Abassin Badshah has opened in Bromley, London. Former Papa John's delivery driver Abassin who joined Papa John's in 2002, now employs more than 30 local people across his two outlets in Catford and Bromley.

"I worked for Papa John's when I was a student in business," explains Abassin. "By day I would attend lectures then in the evenings and at weekends, I would deliver pizza! I was successful at my studies but also within Papa John's and gradually worked my way up to supervisor. The experience gave me the grounding to understand how the business really worked.

"I knew the pizza was amazing," continues Abassin. "Papa John's concept of: "BETTER INGREDIENTS. BETTER PIZZA." means we only use the finest ingredients and fresh dough which gives it the best taste! It also meant there was a huge demand and customers were really hungry for what we offered! I realised becoming a franchisee and having my own Papa John's would be a great business opportunity.

"I bought the Catford Papa John's franchise six years ago. At the time, there was less brand awareness than there is now, but we quickly became busy! More recently, in order to keep up with demand it became clear we needed to open another store nearby. The Bromley store situated centrally on East Street, now enables us to provide a faster service to a wider area and to serve our loyal and valued customers even better. I have further plans to open more stores locally in the near future."

As one of the largest pizza companies in the world, Papa John's has opportunities for franchisees throughout the UK. Help is provided with location selection and full turn-key opening of stores. As a franchise, the Company supplies all the assistance needed to get your successful Papa John's up and running.