From teacher to Techclean
Former teacher and mother of four Susan Davies set up Techclean South Wales three years ago after her youngest child went to university. She was looking for a new challenge and wanted to grow a business that she could run from home but still get out and about to interact with others.
Susan discovered Techclean during her research into franchise opportunities. She liked what she saw, and the South Wales and West territory was available so she signed up. Now she employs a team of three people and the business is growing steadily. The Techclean service has never been in greater demand to provide a regular effective cleaning service for office equipment that come into regular contact with human hands including laptops, PCs, printers, photocopiers and telephones.
Techclean Wales and West's many clients include the National Library of Wales, ED F Energy, HPC Swansea which controls all the computer functions for universities in South Wales, The Public Services Ombudsman Wales and several call centres across the region.
Said Susan: "I get a huge amount of satisfaction from my job. We go into an office and in a just few hours we make such a big difference to their working environment. I call the women I work with my 'dream team' and clients are always genuinely delighted with the results."
"With Techclean no two days are the same. It is great working with a variety of people in different environments. I enjoy travelling to client businesses as I would hate to be stuck behind a desk working in an office every day. "
Exclusive interview with Papa John's multi-unit franchisees in Wales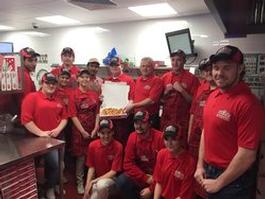 Name: Clif Roberson
Location: Pontypridd
Franchise: Papa John's
Date launched the franchise: 2015
Tell us a bit about yourself and what you were doing prior to buying your Papa John's franchise business?
I attended Cyfarthfa High School in Wales and have been great mates with John O'Brien ever since! Last year we decided to start a joint business and franchising seemed like a good way forwards. John was formerly a maths teacher and his son used to work for a rival pizza firm plus he loves pizza, so a little homework led us to discover Papa John's and we found the numbers added up!
Previously, I worked in franchising for around ten years running sandwich bars after a brief spell trying to go it alone, I knew franchising was a better way forward. So, we began by opening our Papa John's stores in Cwmbran and Merthyr Tydfil and have recently opened in Pontypridd.
Why did you go down the franchise route? And why did you choose Papa John's?
Papa John's is one of the largest pizza companies in the world and has opportunities for franchisees throughout the UK. Franchising offers support when starting up and that was attractive to us. For example: Papa John's is currently running an incentive scheme to help franchisees in the early stages of growing their businesses which includes discounted royalty fees, contribution towards marketing spend plus free equipment for new stores. This helped get us off to a great start!
Also the company's focus on freshness and quality is compelling. Papa John's concept of: "Better Ingredients, Better Pizza" concept combined with excellent customer service and rapid delivery times has contributed to Papa John's recently being named as the UK National Pizza Delivery Chain for the sixth time. We wanted a slice of that action!
How did you raise the finance?
Through a mixture of private funds and a bank loan from HSBC's franchising department. HSBC were really helpful. The staff know Papa John's well and understand the business model. They have worked with many Papa John's franchisees and so securing funds was a straight forward process.
What training and support did you receive initially and ongoing?
We attended Papa John's HQ for training and we are supported on an ongoing basis by head office staff. Our own store staff are trained by us and also through an online modular system designed by Papa John's which ensures they have all the necessary skills be serve up our great pizza every day!
What is a typical day for you as a Papa John's franchisee?
We are still in 'expansion' mode so we are careful to analyse customer feedback to we can see how to improve our service further. We spend time making sure our stores are all ok and ready for the day's trading. We have on-site managers, so really we are just checking everything is up to our high operational standards and overseeing the stores.
What challenges have you faced?
The main challenge has been to find really good locations for stores. We really took our time over this and it's paid off. The more unexpected challenge was managing demand for pizza – we have been surprised by the level of custom which far exceeded our expectations. We needed to get staff up to speed rapidly to cope! However, this was a good challenge to face!
Has becoming a Papa John's franchisee changed your life, if so how?
I worked in franchising for a decade before joining Papa John's. However, the move has given me greater flexibility. I am now my own boss in a thriving business, under the umbrella of Papa John's. It is very rewarding developing the stores and providing jobs for local people.
What is the most invaluable piece of advice you could give someone looking to buy their first franchise?
Do your homework and due diligence! Speak to franchisees to see what the job really entails.
In your opinion, what makes a successful franchisee?
A dedicated hard worker who has some funding to purchase a good franchised business. You can only be as good as the product you sell and that has to have demand in the market place to succeed.
What are your plans for the future?
So far, we have all been surprised and delighted by the popularity of new our stores, which have already doubled original forecasts, seeing strong repeat business. We have plans to open two further Welsh Papa John's this autumn!
Would you do it again?
We are doing it again! We plan to open a further five stores within the next 12 months!
Wales is Hungry for More Papa John's!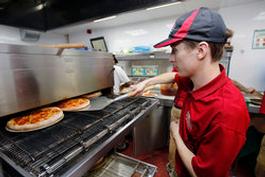 Leading pizza franchise, Papa John's, has announced the opening of its latest store in Wales. Franchisee Clif Roberson, who will run the outlet, has recruited 22 local staff to serve-up Papa John's top quality pizza in Pontypridd.

Clif Roberson makes up one third of the trio of local school-friends-turned-entrepreneurs who have also recently opened Papa John's in Merthyr Tydfil and Cwmbran. Clif explains: "We were looking for an exciting business opportunity and have certainly found it in Papa John's! The company is growing rapidly and the support is tremendous.

"So far, we have all been surprised and delighted by the popularity of new our stores, both of which have already doubled original forecasts, seeing strong repeat business. Hot on the heels of Cwmbran and Merthyr, we are now looking forward to introducing Papa John's to Pontypridd, plus opening two further Welsh stores this autumn!

"Pontypridd is a superb location for us," continues Clif. "Just over ten miles north of Cardiff, the town has a sizeable student population. We have acquired a former KFC site, adjacent to the University which is a large modern building overlooking the main road, so we anticipate lots of passing trade keen to taste our tempting pizza!

"Staff have already been trained-up in our other stores and so are ready to deliver on our Papa John's promise of 'Better Ingredients, Better Pizza'," confirms Clif. "We only use the freshest ingredients for a better natural flavour and our Welsh customers just keep coming back: they really are hungry for more!"

Papa John's is one of the largest pizza companies in the world and has opportunities for franchisees throughout the UK. Papa John's which was recently named as UK National Pizza Delivery Chain for the sixth time, is currently running an incentive scheme to help franchisees in the early stages of growing their businesses which includes discounted royalty fees, contribution towards marketing spend plus free equipment for new stores.

Help is provided with location selection and full turn-key opening of stores. As a franchise, the Company supplies all the assistance needed to get your successful Papa John's up and running.
The future is Jingling for Jo Jingles franchisee Eve!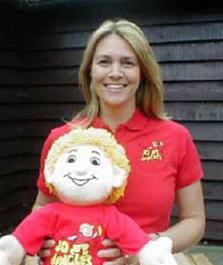 Franchisee: Eve Kay
Territory: North Wales
Franchise: Jo Jingles
I had been a long standing Jo Jingles customer with my daughter Rosie, when the Mid Cheshire franchise came up for sale. It seemed perfect as I totally believed in the service we provide having seen the benefits first hand with my own children and the constant support from Head Office would help me to develop the business whilst maintaining our extremely high professional standards.
Prior to joining Jo Jingles I was a secondary school teacher for 10 years and lead a busy Business Education department in a large comprehensive school. After having my second child I was keen to find something as satisfying but with more flexibility around my family life. I was lucky enough to have some savings to put into the business so I only needed a small business loan to purchase the Jo Jingles franchise. Each franchisee receives an initial training course and benefits from annual conferences and workshops and more importantly, both Head Office and other franchisees are in constant contact so there is never a problem that has to be faced on your own. The level of support and intervention is different with all franchises but I think Jo Jingles have got the balance just right – help and guidance ensuring an excellent, high quality brand without stifling our entrepreneurial spirit!
My personal objectives changed significantly a few years ago when unfortunately I went through a divorce. My earnings went from the 'Jam' to the 'bread and butter' and as such I had to expand the business at a faster rate than I initially intended. However my revenue has quadrupled in this time. I could definitely not have done this as a sole trader and without the support of Head Office. As often is the case, with the success of the business the challenge is keeping time for my family.
I am now in my 7th year as a Jo Jingles franchisee and the last 12 months have been the most rewarding time for me personally and successful for the business.The last year has been a real challenge dealing with families having generally less disposable income and nurseries and government funded agencies such as Children's Centres, having to cancel contracts due to local authority cut backs. Despite this, my franchise grew steadily again in 2011 by 22% (average yearly growth of 26% since 2005). My revenue reached £83815 compared to £22523 when I bought the franchise and I enjoyed a net profit margin of 15% even though I had invested heavily in the business.
My Jo Jingles franchise has an established reputation in my area which covers the parts of Cheshire and North Wales, and I now have a strong team of 5 members of staff who strive to provide an excellent service to our customers. In November 2011, I made one of my employees, Cheryl Mahon, a nominal partner in order to provide progression in employment and further develop the business. We are now together planning our expansion in the Chester area. Although we encounter a high level of competition we are the preferred supplier in many institutions and enjoy high class numbers.
In June 2011 I was delighted to receive 'Jo Jingles Franchisee of the Year Award 2011' at our Annual Company Conference which recognised the strategic development of my franchise, management of the business, and contributions to the network as a whole.
My franchisor has also recruited my services in a Franchisee Support Consultancy role since September 2011 and in this capacity I advise 38 franchisees in the North of England, Scotland and Northern Ireland. I have embraced this new challenge and relish the input into the development of the whole franchise network in addition to my existing franchise area.
I feel the main strengths I have developed in my franchise are:
Loyal, well motivated team that provide a consistently high quality service that exceed customer expectations.
Long running contracts with providers such as nurseries in a highly competitive market
Successful use of promotional campaigns, such as partnerships with local children's activity providers and parental support groups.
A product mix which allows a differentiated pricing strategy for family customers.
An expansion of product range to offer a full service (e.g. baby classes from 3 months or more extended pre-school classes for children preparing for primary school).
An ethos of continual evaluation and readiness to change in response to market and business needs.
A strong partnership with my franchisor.
Although a profitable franchise, our main aim is to foster the love of music in very young children, and the social reward from running and working in a Jo Jingles franchise such as mine far outweighs any possible capital gain.
I feel privileged to have achieved a balance of leading sessions, managing my franchise, supporting my franchisor, and working flexible hours around my family life with our four young daughters. I am also proud of our annual fund raising to our nominated franchise charity 'Children in Need' which has totalled more than £10,000 from my franchise area in the last 3 years.
My plans for the future are to "Carry on Jingling!". If you saw the way the children respond to our classes you would never look for another job!
Fortuitous meeting with Oscars franchise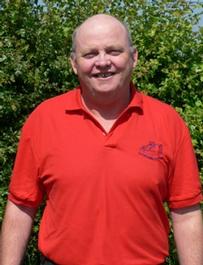 Franchisee: Alan Rees
Territory: Prestatyn, Denbighshire
Date Established: November 1998
Never at home, working as an Account Sales Executive for a large computer company was beginning to take its toll. It was time to rethink my future and it took a year, on and of, to find what I really wanted to do.
Bearing in mind that a nine-to-five job was not a priority, meeting Oscar was certainly fortuitous. Initially knowing that I could work at my own pace. It was even better to learn that a large part of the business was already set up; and to start with 10,000 households was not a huge investment.
Although I do not have my own animals I am used to meeting people and past experience helped in the running of my own company.
I soon discovered that Oscar has a good product and believing in what I sell makes the business simple to run. At the same time I can earn a decent living and have a normal life.
Quality service from X-Press franchise Wales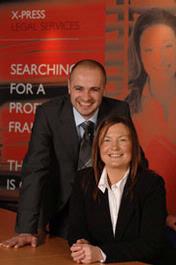 Changes in senior management and a series of "restructures" made Paul Hamilton increasingly unhappy in his job in the chemical engineering industry. Although he wanted a complete change, there were compelling reasons for carrying on being employed – a young family and a mortgage.
Paul started considering options for setting up his own business. He toyed with the idea of a franchise, which he had first heard about as a teenager when his father and older brother were researching franchises that they could operate together.
He knew that franchising would enable him to set up a new business with the support and expertise of an established company, which meant it was less risky than setting up a new venture entirely alone.
With his wife, Angela, he looked at some business ideas, including franchises, that were close to home in the North West but none was quite right. Meantime, Angela's Mum Lyn had a job working with Warrington-based X-Press Legal Services Ltd. She has subsequently bought a franchise in the Lake District with her husband Steve. Angela's sister Katie is employed at X-Press's head office.
Paul realised the potential this franchise offered, providing a vitally important service to the legal profession. He explained: "I wanted a franchise that I could control but would not tie me to a desk. I knew about the background of the business and I knew personally the X-Press founders, the Lister family, and I trusted them.
"When I rang X-Press to find out how to go about becoming one of their franchisees and discovered that a large territory in North Wales was available, that was the icing on the cake. My family all love that part of the country and we would have moved there years before but employment – or lack of it - had always made it impossible to realise the dream," Paul continued.
"Suddenly, here was a golden opportunity to start my own business and move to a lovely area. Within six months my life and my family's life had completely changed and all for the better.
"Interestingly, I didn't see it as a risk because I was convinced it was the right thing to do for all of us. It has all been worthwhile and I have no regrets about turning our lives upside down," Paul concluded.
He started his franchise in February 2007, amidst all the uncertainty about Home Information Packs that had gripped the housing sector. Despite this, the business made an excellent start, has attracted new clients and is well on target.
Paul explained: "I am concentrating on creating a business that is renowned for quality and personal service. I want to be able to secure a future for my family and to have a good quality of life too."
X-Press Legal Services Ltd
X-Press Legal Services' Ltd is a specialist franchise that provides property searches and reports, working on behalf of solicitors and other conveyancing professionals. The searches and reports are a vital part of the property buying process in the UK.
Recognising real rewards with Recognition Express franchise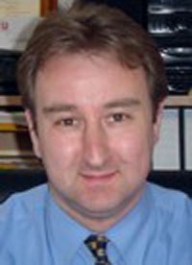 Chris Kerry
North Wales
Why did you choose Recognition Express?
Having researched the franchise market extensively the Recognition Express name kept recurring and I was attracted by the level of margins achievable coupled with a start-up package which represented excellent value, with literally every conceivable requirement included- from training and equipment right down to envelopes and business stationery.
How have you found the training and support given by Recognition Express?
The initial 2 week training course was comprehensive, but as a consequence, was a lot to absorb. As with anything, knowledge comes with experience. The on-going support from Head Office and the rest of the network of franchisees is excellent- support in all aspects of the business is readily available whenever needed, not for a limited time after training, but on an on-going basis.
How was your first year in business?
The first 12 months I was still responsible for another business and as a consequence my time was seriously diluted. I was unable to devote the sufficient time and effort to establish my Recognition Express business. Fortunately, I was able to draw a line under year one and I knew I had to 'hit the ground running' in year two. Marketing has been my high priority and I put systems in place to ensure that an established and proven marketing plan was followed to the letter- and eventually this began to pay dividends.
How do you see your business progressing?
My office is our converted garage which has been invaluable when visitors call and in creating a working environment. This will be acceptable for maybe another 6 months, but thereafter I will look to expand into new premises. I am presently making enquiries about employing an assistant, as time does get very tight. My wife, Mary is more involved in the business now too- helping with the accounts and marketing.
Do you have any advice to anybody considering Recognition Express as a franchise?
There is no magic formula for success; business will not fall into your lap! The success of this business is based on a high level of sales and marketing activity. The higher the profile you make for yourself, be it through local press stories, networking, cold-calling or direct mail, the more doors you will open and the more business you will get.