From McDonald's to Wilkins Chimney Sweep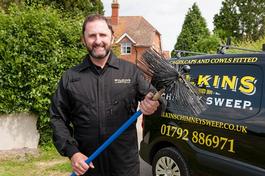 Name: Stephen Jones
Franchise: Wilkins Chimney Sweep
Location: Swansea
Can you tell us a bit about yourself and what you were doing prior to buying your Wilkins Chimney Sweep franchise business?
I live on the outskirts of Swansea in a village called Pontlliw, I have 2 children Caitlin 20 and Rhys 17, I had previously worked in McDonald's for 30 years undertaking various roles, including Restaurant Manager, Business Manager, Regional People Manager, Apprenticeship Quality Manager. While I am not at work I play golf, squash and hold a season ticket for Swansea City FC.
Can you also tell us about your Wilkins Chimney Sweep franchise business?
I have bought a franchise with Wilkins Chimney Sweep, the franchise provides a professional, organised, structured business module to deliver a great service experience for all customers needing a chimney sweep, the growing number of wood burner installations UK wide has created a demand for more chimney sweeps. The franchise package not only focuses on repeat business from existing customers but also attracts new customers through great customer feedback and trust scores.
Why did you go down the franchise route? What made you choose the chimney sweeping industry? And why did you choose a Wilkins franchise?
I always had a desire to be my own boss and franchising is the perfect solution as the hard work in creating a successful business system has already been done, also franchises generally have a good track record for training and supporting franchisees to succeed as success breeds success.
Although most would not see chimney sweeping as a glamorous business, I could see the growth potential with the market, a low start up and a low running cost as stock and premises were not needed.
I chose Wilkins because I knew an existing franchise from Cheshire who spoke highly of the opportunity and I loved the brand and information pack.
How did you raise the finance?
I rented my home, used some savings, obtained a loan and sold my car to help with the purchase.
What training and support did you receive to help get your franchise launched?
I had 3 weeks intensive training 2 weeks practical and a week on business systems, the training was very well organised and covered all my needs, the training was catered to help me in my opportunity areas, I was experienced with office and business, so less time was spent here and more allocated to the practical side.
How would you describe your role as a franchisee?
My role is to demonstrate the values of the brand each day to ensure my customers receive a great experience that keeps them using my services and in turn referring me to new customers. My role is also to grow the brand over time in order to expand and provide employment which in turn will give me the capacity to increase the service to wider market whilst increasing sales and ultimately profit.
What have been the biggest challenges so far in getting your franchise launched? And how have you dealt with them?
The biggest was at the planning stage, will it work in my area? Is there enough business for me to survive and thrive in the future? I made sure I researched the need for Chimney Sweeps, the current services operating, and the quality of service offered, once I had analysed the potential market I was happy that if I performed to the level of a Wilkins Franchisee I could offer the same if not a better service than the best in Swansea.
Any advice for someone considering franchising?
Have you completed thorough research on: Market needs, future market needs, current providers, legislation that could affect future need for your business.
Have you got the skills, determination and funds to launch?
Tell people what you do, focus on target audience by using various vehicles, google adwords, leafleting, Facebook and attend events.
To find out more about a Wilkins Chimney Sweep franchise click here
Exclusive interview with Papa John's multi-unit franchisees in Wales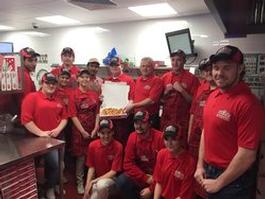 Name: Clif Roberson
Location: Pontypridd
Franchise: Papa John's
Date launched the franchise: 2015
Tell us a bit about yourself and what you were doing prior to buying your Papa John's franchise business?
I attended Cyfarthfa High School in Wales and have been great mates with John O'Brien ever since! Last year we decided to start a joint business and franchising seemed like a good way forwards. John was formerly a maths teacher and his son used to work for a rival pizza firm plus he loves pizza, so a little homework led us to discover Papa John's and we found the numbers added up!
Previously, I worked in franchising for around ten years running sandwich bars after a brief spell trying to go it alone, I knew franchising was a better way forward. So, we began by opening our Papa John's stores in Cwmbran and Merthyr Tydfil and have recently opened in Pontypridd.
Why did you go down the franchise route? And why did you choose Papa John's?
Papa John's is one of the largest pizza companies in the world and has opportunities for franchisees throughout the UK. Franchising offers support when starting up and that was attractive to us. For example: Papa John's is currently running an incentive scheme to help franchisees in the early stages of growing their businesses which includes discounted royalty fees, contribution towards marketing spend plus free equipment for new stores. This helped get us off to a great start!
Also the company's focus on freshness and quality is compelling. Papa John's concept of: "Better Ingredients, Better Pizza" concept combined with excellent customer service and rapid delivery times has contributed to Papa John's recently being named as the UK National Pizza Delivery Chain for the sixth time. We wanted a slice of that action!
How did you raise the finance?
Through a mixture of private funds and a bank loan from HSBC's franchising department. HSBC were really helpful. The staff know Papa John's well and understand the business model. They have worked with many Papa John's franchisees and so securing funds was a straight forward process.
What training and support did you receive initially and ongoing?
We attended Papa John's HQ for training and we are supported on an ongoing basis by head office staff. Our own store staff are trained by us and also through an online modular system designed by Papa John's which ensures they have all the necessary skills be serve up our great pizza every day!
What is a typical day for you as a Papa John's franchisee?
We are still in 'expansion' mode so we are careful to analyse customer feedback to we can see how to improve our service further. We spend time making sure our stores are all ok and ready for the day's trading. We have on-site managers, so really we are just checking everything is up to our high operational standards and overseeing the stores.
What challenges have you faced?
The main challenge has been to find really good locations for stores. We really took our time over this and it's paid off. The more unexpected challenge was managing demand for pizza – we have been surprised by the level of custom which far exceeded our expectations. We needed to get staff up to speed rapidly to cope! However, this was a good challenge to face!
Has becoming a Papa John's franchisee changed your life, if so how?
I worked in franchising for a decade before joining Papa John's. However, the move has given me greater flexibility. I am now my own boss in a thriving business, under the umbrella of Papa John's. It is very rewarding developing the stores and providing jobs for local people.
What is the most invaluable piece of advice you could give someone looking to buy their first franchise?
Do your homework and due diligence! Speak to franchisees to see what the job really entails.
In your opinion, what makes a successful franchisee?
A dedicated hard worker who has some funding to purchase a good franchised business. You can only be as good as the product you sell and that has to have demand in the market place to succeed.
What are your plans for the future?
So far, we have all been surprised and delighted by the popularity of new our stores, which have already doubled original forecasts, seeing strong repeat business. We have plans to open two further Welsh Papa John's this autumn!
Would you do it again?
We are doing it again! We plan to open a further five stores within the next 12 months!
Wales is Hungry for More Papa John's!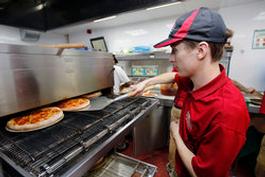 Leading pizza franchise, Papa John's, has announced the opening of its latest store in Wales. Franchisee Clif Roberson, who will run the outlet, has recruited 22 local staff to serve-up Papa John's top quality pizza in Pontypridd.

Clif Roberson makes up one third of the trio of local school-friends-turned-entrepreneurs who have also recently opened Papa John's in Merthyr Tydfil and Cwmbran. Clif explains: "We were looking for an exciting business opportunity and have certainly found it in Papa John's! The company is growing rapidly and the support is tremendous.

"So far, we have all been surprised and delighted by the popularity of new our stores, both of which have already doubled original forecasts, seeing strong repeat business. Hot on the heels of Cwmbran and Merthyr, we are now looking forward to introducing Papa John's to Pontypridd, plus opening two further Welsh stores this autumn!

"Pontypridd is a superb location for us," continues Clif. "Just over ten miles north of Cardiff, the town has a sizeable student population. We have acquired a former KFC site, adjacent to the University which is a large modern building overlooking the main road, so we anticipate lots of passing trade keen to taste our tempting pizza!

"Staff have already been trained-up in our other stores and so are ready to deliver on our Papa John's promise of 'Better Ingredients, Better Pizza'," confirms Clif. "We only use the freshest ingredients for a better natural flavour and our Welsh customers just keep coming back: they really are hungry for more!"

Papa John's is one of the largest pizza companies in the world and has opportunities for franchisees throughout the UK. Papa John's which was recently named as UK National Pizza Delivery Chain for the sixth time, is currently running an incentive scheme to help franchisees in the early stages of growing their businesses which includes discounted royalty fees, contribution towards marketing spend plus free equipment for new stores.

Help is provided with location selection and full turn-key opening of stores. As a franchise, the Company supplies all the assistance needed to get your successful Papa John's up and running.
Exclusive interview with Helen Rabaiotti, Card Connection, Newport/South Wales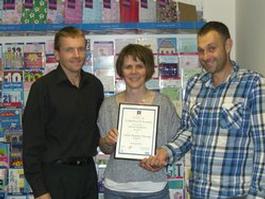 Name: Helen Rabaiotti
Location: Newport/South Wales
Franchise: Card Connection
Tell us a bit about yourself and what you were doing prior to buying your Card Connection franchise business?
I ran a post office before becoming a Card Connection franchisee with my husband David five years ago. We supply 230 retailers in South Wales with Card Connection's extensive range of quality greetings cards and accessories from our Abergavenny base.
What attracted you to franchising versus started starting up on your own or finding employment?
Myself and my husband were used to being self-employed and were experienced in working in customer facing roles. We were familiar with Card Connection as a franchisee used to deliver them to the post office. We knew the greetings cards were always particularly popular and sold well, so when the franchise became available, we jumped at the chance to branch out.
The franchise concept is also quite simple. The franchisee places Card Connection's quality range of greetings cards and accessories in retail outlets on a 'consignment' basis. This is beyond sale or return as the retailer only pays for what they sell and the franchisee supplies display equipment on free loan as well as visiting regularly to merchandise displays.
"The award winning concept has proved popular over two decades and Card Connection has many national account customers."
Why did you choose Card Connection? What research did you undertake?
We initially bought the Bath franchise which is a compact area and I helped David run it for five years. However, last year, the Newport/South Wales region became available and we were keen to take on the larger franchise! We moved last summer and now I have become much more involved in the business.
How did you raise the finance for funding your franchise? Did you use any financial support (grants etc) specific to business startup?
We bought our original franchise from savings, then NatWest helped us financially when it came to buying the larger franchise last year.
What training and support did you receive initially and ongoing from Card Connection?
We were provided with full training at head office and also 'on the road'. In addition, ongoing support comes from our franchise manager who is always on the end of the phone if we need any help.
"Card Connection is set up to enable its franchisees to succeed and they pro-actively supply all the help necessary. Regular regional meetings and the annual conference are always good opportunities for further input."
What is a typical day for you as a Card Connection franchisee?
The day starts with sorting out the family! We have two children, one at University and our youngest is about to start GCSEs so early mornings are always hectic! Next it's onto our storage unit where either David has already loaded the van ready for deliveries or I go down to pick up the stock.
Once I'm out on the road, I usually visit about five retailers to supply fresh stock. I merchandise the displays of greetings cards to make them look fresh and appealing in each store. I take out all the old stock and replace it with new and seasonal ranges. After this, then it's home to complete the paperwork. Household things then tend to take over in the evenings!
What challenges have you faced?
Running a franchised business and balancing family life will always have its challenges. We have recently moved from Bath to Abergavenny too, so this did add a further complication! With the new South Wales franchise we now supply 230 retail stores compared with 100 so there has been an increase in workload as we still currently manage Bath while it is up for sale.
We inherited two staff members from the old South Wales franchisee, who are great and really know their jobs. However, we also want to make improvements to the way we work and introducing change always has to be done gradually and tactfully.
Has becoming a Card Connection franchisee changed your life, if so how?
I've always been used to working in a full time role. The franchise however, offers a more flexible set-up than a traditional 9-5 job. I don't mind working outside 'normal' business hours. Card Connection is also much more varied than working in the post office so I like that.
In your opinion, what makes a successful franchisee?
I think a good franchisee needs to be organised, yet flexible. In our job, being adaptable and able to 'think on your feet' when a retailer asks for your advice because they are suddenly having a big store re-fit can also be an advantage! This is where experience comes in too. Being polite and accommodating with retail customers is also a must in our business.
What is the most invaluable piece of advice you could give other women looking to start their own business through franchising?
It is important to 'do your homework'. When we took on the larger franchise NatWest helped us financially.
"The banks are all familiar with Card Connection, so if you are looking for a franchise opportunity, choose an established company with a good reputation as then it will be more straight forward to get the funding support you need, when you need it."
What are your plans for the future?
Our recent move to the Newport/South Wales territory does mean that the established Bath area is for sale. It is a great business for someone looking for a full time franchise in this interesting sector. The territory covers the city, surrounding towns/villages and parts of Dorset.
Over the years we have been able to improve the franchise and sales were up 4% in the past year and yet there are always further opportunities to develop the business for the right enthusiastic person! For our part, we are now looking at focusing on developing the Newport/South Wales Card Connection territory.
Would you do it again?
Buying the Card Connection franchise was the best way forward for us. We have no regrets!
Click here to find out more about the Card Connection franchise opportunity
Interview with Alun Mort of Card Connection, South West Wales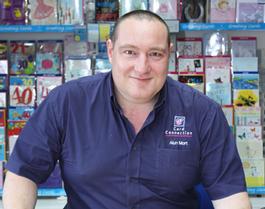 Franchisee: Alun Mort
Territory: South West Wales
Franchise: Card Connection

This year Alun Mort celebrates his 20th year anniversary as Card Connection franchisee for South West Wales. Alun's territory covers Swansea, Neath, Port Talbot, Carmarthen, Fishguard and Cardigan Bay. Alun, supplies more than 200 retailers with Card Connection's extensive range of top quality greeting cards and accessories and in the past year has grown his business by 7%.

Tell us about your franchise:

"It's a fair sized territory," confirms Alun, who originates from The Rhondda Valley and who ran a petrol forecourt before joining Card Connection in 1995. "Therefore, I work with another merchandiser and also have three part time staff to help pick and pack the greetings cards ready for the next day's deliveries."

Card Connection franchisees supply greeting cards and accessories in retail outlets on a 'consignment' basis, also supplying the display equipment free on loan, minimising the retailers' costs and maximising retailers' profits. This is one step beyond 'sale or return' as retail customers don't have to buy the stock initially; they only pay for what they sell. Card Connection's award winning merchandising service provided to retailers has proved popular all over the UK and Ireland.

What is a typical day for you as a franchisee?

"We tend to start early and finish early missing the traffic," continues Alun. "This can be worse in the height of the tourist season so route planning is all important! I encourage my merchandiser to be on the road before 7am and on the way back before 2pm. From my point of view, keeping these kinds of hours does mean I have plenty of time to go for a run after work. My van doubles as a mobile 'changing room' so wherever I finish I can park up, put on my trainers and just head out into the Welsh hills! In this way, I love the flexibility the franchise offers.

Is franchising in Wales different to launching elsewhere?

"Franchising in Wales is really very similar to any other location in the UK," confirms Alun. "One difference however, is that we do provide some Welsh cards which are popular in the villages and also with tourists who like to send them as postcards! Card Connection is always looking for new design ideas and my 'claim to fame' is the production of one card depicting yours truly trying my hand at rock climbing, pictured half way up a rock face. However, most of the cards we sell are birthday designs which generally have a more broad appeal!"

A different perspective

Fellow Card Connection franchisee Kevin Fry runs the more urban territory surrounding Cardiff. In addition, Kevin covers Barry Island, Porthcawl and Trowbridge delivering and merchandising Card Connections' greetings cards and accessories to around 170 retail stores in the region. Previously, Kevin ran a newsagent for 35 years.

"The Card Connection franchise is certainly easier than running the newsagents!" confirms Kevin. "A shop is a seven day per week job and after a while that becomes pretty tiring. I found out about Card Connection through word of mouth. I was just chatting to someone and they mentioned they knew of a franchise for sale so I decided to take a look. That was 11 years ago and I haven't looked back!

"My area is more compact than Alun's," explains Kevin. "The territory is near the docks and the cities and towns have a diverse cultural base like many other places in the UK. We also sell Welsh cards but these are mainly in the rural Welsh speaking areas. These cards do demonstrate the breadth of the range we can offer though and have often 'opened the door' for business for me. When I talk to a new retailer I use them as examples of the extensive range we can provide and often they want to learn more about how we work."

About Card Connection

Card Connection is one of the UK's largest card publishers and is the market leader in the franchised distribution of greeting cards. The business' unique model of consignment sales has resulted in a strong brand and established reputation which has been proven over many years. Through its franchisees Card Connection supplies about 12,000 retailers throughout the UK.
Auditel was my first choice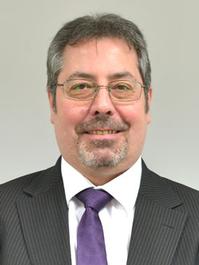 Cardiff-based John Palmer had many managerial roles throughout his career before joining the Auditel Cost Management Franchise. Most recently, he was the Global Manufacturing Director for Prism Medical Ltd. Prism are one of the largest providers and manufacturers of durable medical equipment and related services to the mobility challenged. They deal with Canada, the US and the UK. John's overall responsibility was to ensure supply chain support for sales and to set budgets for manufacturing and purchasing. This included utilities, long-term supplier contracts, and costs related to labour.
Asked why he joined Auditel, John recalls: "I thought it was the only franchise out there that matched my varied skill set and their positive attitude just seemed to cap it off. Auditel was my first choice."
John said that he and his fellow-newcomers enjoyed the training, which was intensive, well-defined and well-delivered. It was light-hearted at times, but contained a real work essence. He added: "There was plenty of time for questions and at the end, you knew what you had to do. It was highly enjoyable and enlightening!"
His broad range of project management experience in Manufacturing, Distribution and Supply Chain Management with SMEs and large multinational companies has been especially useful. He says: "It gave me an in-depth knowledge of how to work with organisations of all sizes and identify opportunities for lowering and managing business overheads.
"Since becoming an Auditel Consultant, I have delivered significant and sustainable savings in costs and management resources to the Hotel and Leisure and IT Industries and for the Commercial Property Sector. As a fully independent professional, I offer the best services for the needs of my clients. I can help them develop their businesses to full potential and allow them to achieve the long-term success they deserve."
Matt Sidwell, Auditel's UK and Ireland's Director of Network Development, says: "Recently, we have had many renewed franchise agreements. In fact, our Affiliates renew after 5, 10 and now 15 years, having consistently achieved their financial goals and the quality of life they want for themselves and their families. If you'd like to run your own satisfying and prosperous consultancy, consider joining our network. Come to one of our free Discovery Seminars and meet our friendly Franchise Support Team. We shall be delighted to meet you and answer your questions."
Card Connection's South West Wales franchise renews contract for third time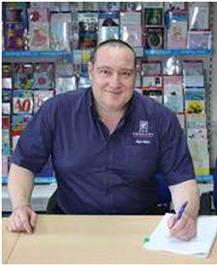 Leading greeting card publisher and franchisor, Card Connection, has announced its franchisee for South West Wales, Alun Mort, has renewed his franchise contract with Card Connection for the third time. Previously a petrol station manager, Alun who joined Card Connection in 1995, started out with a virgin territory and now supplies Card Connection's quality greeting cards and gifts to around 200 stores in the area.

"Each of our franchisees sign up for a limited period – usually five years," explains Michael Johnson, Managing Director, Card Connection. "We are delighted that Alun has chosen to renew his contract with us for a third time and look forward to continuing to support him in running his business on an on-going basis."

"Card Connection's head office staff are always friendly and supportive," explains Alun Mort, Card Connection franchisee for South West Wales. "They provide a good range of quality products which are regularly updated and refreshed. There is no denying it is hard work but I'm not sick of it yet! Being out on the road keeps me busy and I like meeting my retail customers on a regular basis, they are nice people and that counts for a lot."

Alun covers a mix of urban and rural territory. He says: "There is a fair amount of travelling involved, so if I have to go along way, I'm usually up early. I run the business on my own so being organised, especially with call routes, is helpful, although anyone who knows me might be surprised that I have to manage this aspect of the job!

"I would definitely recommend the Card Connection opportunity to anyone considering franchising," continues Alun. "Despite becoming a large company over the years, the Card Connection team still remain friendly and approachable and are always willing to listen when you have something to say."

Card Connection is part of UK Greetings, which is a subsidiary of the largest publicly owned greeting card publisher in the world and has limited vacancies for franchisees who are keen to run an expanding business. Suitable candidates would ideally have some management experience as, once established, and depending on the size of the territory, they could be expected to employ a small team, operate a small warehouse and have several liveried vans on the road.

Since the franchise network in the UK is complete, the available opportunities now consist of acquiring an already-established territory from an existing franchisee. These vary in price according to their level of development, but start at £20k (+stock) with earnings potential in excess of £50k per annum.
The future is Jingling for Jo Jingles franchisee Eve!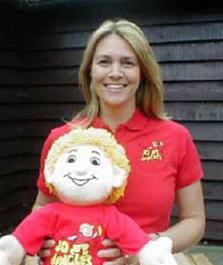 Franchisee: Eve Kay
Territory: North Wales
Franchise: Jo Jingles
I had been a long standing Jo Jingles customer with my daughter Rosie, when the Mid Cheshire franchise came up for sale. It seemed perfect as I totally believed in the service we provide having seen the benefits first hand with my own children and the constant support from Head Office would help me to develop the business whilst maintaining our extremely high professional standards.
Prior to joining Jo Jingles I was a secondary school teacher for 10 years and lead a busy Business Education department in a large comprehensive school. After having my second child I was keen to find something as satisfying but with more flexibility around my family life. I was lucky enough to have some savings to put into the business so I only needed a small business loan to purchase the Jo Jingles franchise. Each franchisee receives an initial training course and benefits from annual conferences and workshops and more importantly, both Head Office and other franchisees are in constant contact so there is never a problem that has to be faced on your own. The level of support and intervention is different with all franchises but I think Jo Jingles have got the balance just right – help and guidance ensuring an excellent, high quality brand without stifling our entrepreneurial spirit!
My personal objectives changed significantly a few years ago when unfortunately I went through a divorce. My earnings went from the 'Jam' to the 'bread and butter' and as such I had to expand the business at a faster rate than I initially intended. However my revenue has quadrupled in this time. I could definitely not have done this as a sole trader and without the support of Head Office. As often is the case, with the success of the business the challenge is keeping time for my family.
I am now in my 7th year as a Jo Jingles franchisee and the last 12 months have been the most rewarding time for me personally and successful for the business.The last year has been a real challenge dealing with families having generally less disposable income and nurseries and government funded agencies such as Children's Centres, having to cancel contracts due to local authority cut backs. Despite this, my franchise grew steadily again in 2011 by 22% (average yearly growth of 26% since 2005). My revenue reached £83815 compared to £22523 when I bought the franchise and I enjoyed a net profit margin of 15% even though I had invested heavily in the business.
My Jo Jingles franchise has an established reputation in my area which covers the parts of Cheshire and North Wales, and I now have a strong team of 5 members of staff who strive to provide an excellent service to our customers. In November 2011, I made one of my employees, Cheryl Mahon, a nominal partner in order to provide progression in employment and further develop the business. We are now together planning our expansion in the Chester area. Although we encounter a high level of competition we are the preferred supplier in many institutions and enjoy high class numbers.
In June 2011 I was delighted to receive 'Jo Jingles Franchisee of the Year Award 2011' at our Annual Company Conference which recognised the strategic development of my franchise, management of the business, and contributions to the network as a whole.
My franchisor has also recruited my services in a Franchisee Support Consultancy role since September 2011 and in this capacity I advise 38 franchisees in the North of England, Scotland and Northern Ireland. I have embraced this new challenge and relish the input into the development of the whole franchise network in addition to my existing franchise area.
I feel the main strengths I have developed in my franchise are:
Loyal, well motivated team that provide a consistently high quality service that exceed customer expectations.
Long running contracts with providers such as nurseries in a highly competitive market
Successful use of promotional campaigns, such as partnerships with local children's activity providers and parental support groups.
A product mix which allows a differentiated pricing strategy for family customers.
An expansion of product range to offer a full service (e.g. baby classes from 3 months or more extended pre-school classes for children preparing for primary school).
An ethos of continual evaluation and readiness to change in response to market and business needs.
A strong partnership with my franchisor.
Although a profitable franchise, our main aim is to foster the love of music in very young children, and the social reward from running and working in a Jo Jingles franchise such as mine far outweighs any possible capital gain.
I feel privileged to have achieved a balance of leading sessions, managing my franchise, supporting my franchisor, and working flexible hours around my family life with our four young daughters. I am also proud of our annual fund raising to our nominated franchise charity 'Children in Need' which has totalled more than £10,000 from my franchise area in the last 3 years.
My plans for the future are to "Carry on Jingling!". If you saw the way the children respond to our classes you would never look for another job!
Fortuitous meeting with Oscars franchise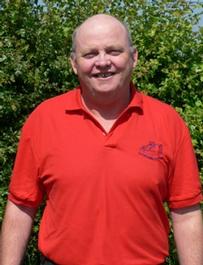 Franchisee: Alan Rees
Territory: Prestatyn, Denbighshire
Date Established: November 1998
Never at home, working as an Account Sales Executive for a large computer company was beginning to take its toll. It was time to rethink my future and it took a year, on and of, to find what I really wanted to do.
Bearing in mind that a nine-to-five job was not a priority, meeting Oscar was certainly fortuitous. Initially knowing that I could work at my own pace. It was even better to learn that a large part of the business was already set up; and to start with 10,000 households was not a huge investment.
Although I do not have my own animals I am used to meeting people and past experience helped in the running of my own company.
I soon discovered that Oscar has a good product and believing in what I sell makes the business simple to run. At the same time I can earn a decent living and have a normal life.
Fastsigns franchise gets National Coverage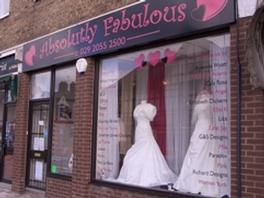 When the BBC's new series 'All Over the Shop' hits the television screens next week, one Cardiff family will be watching very closely for 'signs' of their participation.
Husband and wife team John and Suzannah Gilson, who own the FASTSIGNS® business on Cowbridge Road East, together with their son Daniel, a graphic designer, were approached by the BBC to produce new fascia signs and window graphics during filming of the new programme.
'All Over the Shop', in which retail guru Geoff Burch helps struggling independent shops turn business around, focused on Absolutly (sic) Fabulous, a bridalwear shop on Station Road, Rainbow Toys and Café in Llandaff and the Albany Road Aquarium & Pet Centre. The programmes reveal how Geoff, who has previously worked with the world's leading blue chip companies, helps small businesses improve and sustain a profitable operation.
John and Suzannah, whose business supplies an extensive range of signage including indoor and outdoor banners and vehicle graphics, had just 10 days to fulfil the order – and this had to include everything from the initial consultation with two of the shops and the programme makers, to the complete design and production of the signs.
"It's the first time that we've ever been involved with anything like this," explained Suzannah, who will celebrate FASTSIGNS Cardiff's 10th anniversary this year. "When we were first approached by the BBC we didn't quite know what to expect, but we decided to go for it straight away.
"It was great fun to think that we were actually involved in the making of a television programme, even if we did only have minor roles!" she added.
Cleaning up in Cardiff with AutoValetDirect franchise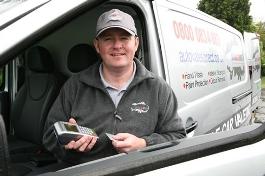 Franchisee Name: Andy Griffiths
Fanchise: AutoValetDirect
Location: Cardiff
Why I chose franchising.
I had been looking for a complete change in regards to my previous occupation and the demands it was placing on my home life. My wife is also a franchisee and so I had direct experience of what can be achieved with hard work and commitment.

What I did before taking up a franchise.
Before franchising I was a Police Officer

How I raised the finance.
I raised the finance through personal savings and a bank loan from Nat West.
The training and support I receive from my franchisor.
So far the support has been excellent. I am able to contact him at any time for advice. My initial training was very good and ended with a team building exercise with all the other franchisees.

My advice to someone thinking of buying their first franchise.
My advice to someone thinking of buying their first franchise is to be 100% sure that the business is something you have a passion for. Be sure you have the support of your family 100%. When you have that then research the franchise thoroughly and ask as many questions as you can think of.
My plans for the future.
My plans for the future are to build a successful business with a large customer base which is varied between corporate and private customers. I eventually want to employ other valetors.

Recognising real rewards with Recognition Express franchise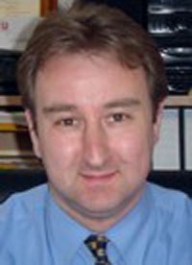 Chris Kerry
North Wales
Why did you choose Recognition Express?
Having researched the franchise market extensively the Recognition Express name kept recurring and I was attracted by the level of margins achievable coupled with a start-up package which represented excellent value, with literally every conceivable requirement included- from training and equipment right down to envelopes and business stationery.
How have you found the training and support given by Recognition Express?
The initial 2 week training course was comprehensive, but as a consequence, was a lot to absorb. As with anything, knowledge comes with experience. The on-going support from Head Office and the rest of the network of franchisees is excellent- support in all aspects of the business is readily available whenever needed, not for a limited time after training, but on an on-going basis.
How was your first year in business?
The first 12 months I was still responsible for another business and as a consequence my time was seriously diluted. I was unable to devote the sufficient time and effort to establish my Recognition Express business. Fortunately, I was able to draw a line under year one and I knew I had to 'hit the ground running' in year two. Marketing has been my high priority and I put systems in place to ensure that an established and proven marketing plan was followed to the letter- and eventually this began to pay dividends.
How do you see your business progressing?
My office is our converted garage which has been invaluable when visitors call and in creating a working environment. This will be acceptable for maybe another 6 months, but thereafter I will look to expand into new premises. I am presently making enquiries about employing an assistant, as time does get very tight. My wife, Mary is more involved in the business now too- helping with the accounts and marketing.
Do you have any advice to anybody considering Recognition Express as a franchise?
There is no magic formula for success; business will not fall into your lap! The success of this business is based on a high level of sales and marketing activity. The higher the profile you make for yourself, be it through local press stories, networking, cold-calling or direct mail, the more doors you will open and the more business you will get.
At last a Card Connection franchise owner!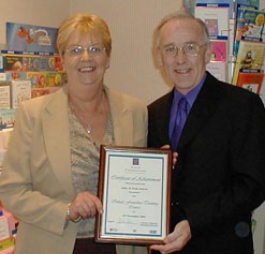 John and Trish Andrew first thought of venturing into some sort of franchise business in 1999 when John left his job as a management accountant and Trish was an assistant manager with the local Birthdays retail card shop.
However, having just bought a disused Welsh methodist chapel, which they had decided to convert into their home, they felt that to start in business at that point would have been one project too many, and so the idea was put on the backburner.
As the chapel conversion progressed, John worked four nights a week in a local supermarket to keep some money flowing into the family purse while leaving him three full days and four part days as a do-it-yourself builder. By mid 2001, with work on the chapel conversion almost complete, thoughts of their own business with the advantages of a franchisor's backing began to return.
Conscious that they were in their late fifties, the choice of the right franchise was of paramount importance, so the first step was to obtain a copy of the British Franchise Association's guide and study the advice it contained.
Basically, that advice was firstly to look at all the fields of business in which franchises were on offer, then having selected the field in which they wanted to run, look at all the franchisors operating in that field before choosing the one to purchase.
John sums up:
"Our decision to opt for greeting cards was reached based on four reasons:
1) The product itself is regularly in demand by everyone and not subject to volatile changes in public taste.

2) There was no need to acquire premises to carry on the business, thereby removing the problem of finding the right location.

3) There was no need to employ staff to run it, so removing another possible source of problems.

4) Tricia's love of cards would add impetus to our efforts to set up our own business.
"Once we had chosen our preferred area of operation, we contacted all the relevant franchisors, narrowing this down to a shortlist of three. After many meetings and visits, we felt that Card Connection was the one which would suit us best.
"However, we wanted to be sure that we were doing the right thing, so to that end we decided that before making a final commitment we should visit the National Franchise Exhibition some six weeks later to look at any other possibilities. Happy that we had reached the right decision, we then went ahead and took on the Card Connection franchise for North Wales in November 2002."
Trish admitted to a certain amount of trepidation. "As we were taking on Card Connection's last remaining "virgin" territory, there were only 40 existing customers, so initially I stayed in my existing job until the business built up. We hoped that this could be achieved by September 2003 when I would come into the business full time. In actual fact, the business gained ground faster than anticipated, and by April 2003 I was able to give up my job and concentrate fully on the franchise."
With their three sons now independent of mum and dad, John and Trish don't have any problems devoting themselves to the business and are thoroughly enjoying the experience.
John says, "We have been tremendously encouraged by the fact that everyone at Card Connection is so friendly and helpful, and this makes us feel more enthusiastic and acts as a great boost to our confidence.
"Obviously, any new business requires hard work, but so far we feel that things are very much going according to plan and the rewards make the effort worthwhile. My main hobby is horse racing, and I also own a share in a race horse. By organising my schedule, which often means working extra beforehand, I am able to take a day off to go to the races when our horse runs. That is something I could not have done previously, and I regard this freedom to organise our lives as we would wish to be one of the greatest benefits we have experienced so far."
Inevitably, John and Trish's success has made them think, 'If only we had gone ahead in 1999 …'
Seeking Independence from Franchising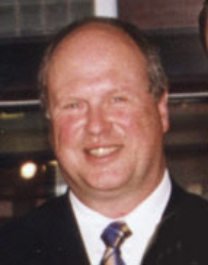 Why I chose franchising
I was seeking independence from large company politics and their sometimes laborious decision processes and ideally wanted to start my own business. Taking up franchising with an established operator diminished the risks in the start-up phase.
What I did before taking up a franchise
I had been in general management for 15 years in the FMCG and packaging industries.
How I raised the finance
I used my own capital for all the franchise costs and for part of my working capital needs. I complemented this with a small loan from a high street bank.
The training and support I receive from my franchisor
I started with a weeks training at ERA's head office in Winchester followed up with support sessions during the first year. As from then on I have attended various training sessions and training days as either refreshers or to learn new techniques etc.
The challenges I have faced
The biggest challenge was to start with no customers and no business and to survive until the cash started to flow in.
My advice to someone thinking of buying their first franchise
Study very carefully what is being offered. How long have the franchisor been trading and how much experience do they have of supporting their franchisees? Talk with existing franchisees or better still ask to go and see them on their own and do not be shy of asking really awkward questions. Do not forget that you will possibly be paying a lot of money for what is going to be your livelihood. It had better be or must be right for you and your circumstances.
My plans for the future
No other plans than to continue and develop my business.