WIN Focuses on Franchising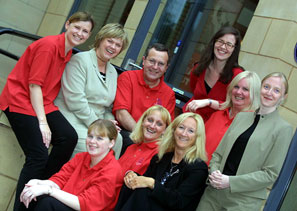 Women in Glasgow got together in November to find out about franchising, and why it's a safer option to starting your own business.
The Women into the Network (WIN) event took place at the Milton Hotel on the 19th November. The WIN initiative aims to increase the number of women owned businesses and unlock the huge potential within Scotland's businesswomen.
The programme was set up to provide the support, encouragement, training and networks that women require to help get their business ideas up and running.
Over 120 women are registered in Glasgow for WIN, with thousands more throughout Scotland.
WIN facilitator Glasgow, Elaine Reilly commented, "Many women enjoy sharing information and encouragement - this is what Women into the Network is all about. At such a critical time as starting your own business, access to accurate and speedy information and support is vital."
Karen Macdonald, Project Manager from Scottish Enterprise Glasgow, stated, "It's great to be involved with a project that has created so much energy and enthusiasm from the participants; we know our members gain a lot from attending."
Last months event focused on franchising and the opportunities it provides. Key speakers included Johnny Sellyn, Managing Director, whichfranchise.com, Glynis Santos, Mail Boxes franchisee, Judy Behl, Co-founder and Managing Director, Scenic Blue and Sue Hodder, Scenic Blue franchisee.
Judy Behl commented after the event, "We found the Women into the Network event extremely useful. It gave us a chance to explain the role of franchisee and franchisor to the businesswomen who attended and to promote the Scenic Blue landscape gardening franchise for the first time in Scotland. We are sure we will soon have our first franchise owners north of the border as a result of this excellent seminar."
WIN events take place all over the country; information can be found at www.scottishbusinesswomen.com
For further information on Scenic Blue contact mail@scenicblue.com