NBC franchise a natural progression for Ian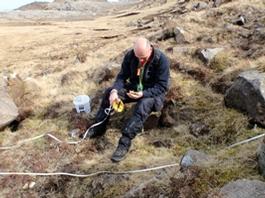 In 2005, Ian was working as as a Global Environment Manager in the oil and gas industry when he first considered becoming self-employed.
He had reached a 'ceiling' in his career and needed a fresh challenge – preferably, one which would offer him a complete change of lifestyle and allow him to spend more time with his young family.
For Ian, NBC was a natural progression in that he felt the franchise would utilise his education, management experience and interest in the environment, whilst fulfilling his desire to learn practical skills and the art of falconry.
Ian says 'I expected self employment to be a challenge, particularly in the first year but I viewed it as a positive challenge and a means of gaining the flexibility and ownership I was looking for in my life. The best way to describe the feeling of becoming self-employed, is that I felt a sense of empowerment'
During the early years, with NBC, Ian worked tirelessly to build the foundations of his business and believes that the NBC franchise is unique in its support. He says' NBC continues to develop services in support of the national franchise and Individuals are given the opportunity to promote change from within. NBC is a dynamic, continuously evolving company that I feel very much a part of'.
He continues, 'I have learned a huge range of new skills including sales and marketing, staff management, practical skills and falconry...and enhanced a whole skill set'
Ian offers this advice for anyone wanting to follow in his footsteps:
'You must be driven, prepared to work hard and have a desire to learn– you can't afford be a 'one trick pony'. Learning to multi-task is essential as you'll be dealing with everything from customers to staff; to accounts. Basically, you get out what you put in'
Six years on, Ian is happy that he made the right decision and is one of NBC's most successful franchisees and says 'Having given up a steady job, my inspiration and challenge was to succeed for my family and ultimately to be better than the competition'
'I'm on the road to financial success (with an expected turnover of....this year) and the business is continuing to grow' and when asked about the rewards he simply says 'To develop a successful solution for my clients – if they're happy, I'm happy!'
Ian is currently working with FERA on a prestigious 3 year research project on the Isle of Rum. He's providing operational support and gathering data to determine the impact of the brown rat on Manx Shearwater breeding success.
Ian's aspirations for the future? To continue to grow his business to become the 'Top pest control business in Scotland!'