robertson technologies franchise helps graduate take on the labour market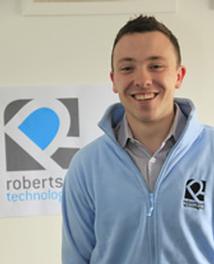 David Earley is taking the bleak tundra of today's graduate recruitment market and turning it into fertile planting ground by sowing the seeds of his own industry in computer support franchise, robertson technologies.
A recent business and management graduate from Glasgow Caledonian University, 23-year old David has struggled to find a job in recent months.
He is not alone and as students graduated last summer the Higher Education Careers Services Unit predicted that at least 10% would not find work within six months of graduating. Of those that have found employment, research shows that over half are not working in areas closely related to their studies.
However, rather than battle against the odds, David decided to stack them in his favour and create a job for himself. He applied for and has been awarded the Glasgow North franchise for robertson technologies.
This computer support franchise is fast establishing itself as one of the many small businesses that will lead the UK out of recession and into more fruitful times.
David says: "There are few jobs available at the moment and I didn't want to waste more time doing the rounds with hundreds of other candidates or going back to university as some of my peers have done. I want to be out there working and earning and so decided to take things into my own hands."
In searching the opportunities available, David came across robertson tchnologies and immediatley the company's founder, Hamish Robertson, struck a chord with him. Hamish established the business as a student and in the last five years has grown it out of his bedroom and into an enterprise with a turnover of £350 000.
This is exactly the sort of ambition that David has. He says: "As a business and management graduate I want to grow and develop something for the future. Taking on the Glasgow North franchise will help me quickly overcome a lot of the logistical issues involved in starting up a business. However the franchise still has huge growth potential and hopefully I will be able to take on other territories and play a major part in the business's future development."
The robertson technologies franchise excited David because of its superb focus on customer service and its dedication to providing computer support in person and not just from the end of a phone line or over the internet, like many others. He also admired its commitment to speaking in plain, simple English to customers.
Equally important was the robertson technologies approach to franchisees. The business does not seek IT professionals looking for a business through which they can indulge their hobby. Instead it looks for management professionals who will grow the enterprise and employ the technical engineers they need service clients.
Hamish said: "David is very ambitious and his focus on growing the business while employing the best technical staff to help customers is going to make him very successful. I have really enjoyed working with him in recent weeks and think he will soon develop Glasgow North into a very strong territory."
He added: "We are getting a growing number of enquiries from graduates as they realise that relying on other people to provide jobs in these difficult times is not the best option."