Lifelong friends find success with Silverdaze franchise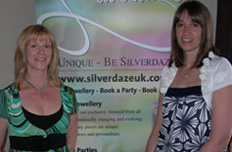 Muriel and Charmaine, our first franchisees from north of the border joined Silverdaze in August 2008. Friends for years, their dream has been to go into business together. "We've always dreamed of having a coffee and gift shop, but it's a big step to take when you've never been in business before, especially with all the overheads and other costs. Silverdaze seemed a much safer option for us."

We're fairly decisive people. We did an internet search for 'Ladies in Business' and came across Silverdaze. As soon as we saw the Jewellery we liked the look of it and thought; "We could sell that!" The thing is, we both have very different tastes; I tend to like the large, chunky pieces and Charmaine's tastes are more refined, preferring smaller delicate pieces. Luckily the Silverdaze range is so diverse that it can cater to any preference.

Not only do we have different tastes, our personalities differ in many ways too, I would describe myself as being pretty talkative and excitable and Charmaine as being a much calmer and more level headed person. This helps give balance to our partnership, as we're able to complement each other. If one of us is feeling a bit down then the other is always there to boost us up again. I have to say it's been completely manic and full on at times!

We both have full time jobs in administration, families to look after and homes to run. We knew we would have to go full tilt in our first year if we wanted our business to take off. Throughout our time so far we have tried many varieties of events as our thinking has been; 'let's just try it and see if it works'. Of course the more experience we have the more discerning we become.

We've learnt so much already about the business and even more about ourselves and each other. We're more confident in our ability to sell and in talking to customers. I think this has been the biggest most important learning curve: Listening to our Customers. We start talking to our customers from the minute they approach the stall and this informs our whole relationship with the Jewellery from buying, to displaying, to keeping up with the latest fashion trends.

Leading up to Christmas we had so many bookings that we had to put many of our clients off until the coming year. Summer too is a very busy time for us with Fundraising events, Perth Show, Highland Games and numerous other fetes and fairs. Our families have been really supportive which is great and hugely appreciated. Our friends have been eager to volunteer their services and enjoy the whole experience of helping at events. Luckily they all love the Jewellery, as none of them will accept payment from us, so we try to make presents of the Jewellery to them.

All in all it's been an amazing challenge, but it's been good fun and exciting. We've really enjoyed getting out and about and meeting so many different people. We've travelled far and wide with the business and found every party and event is different. We love the variety and the fact that this is a stepping stone to reaching our ultimate goal. Who knows, one day we might have that coffee and gift shop and be able to incorporate Silverdaze into the whole business!