Safety in numbers by franchising with Mail Box Etc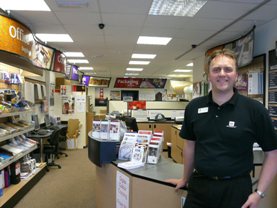 Graham Angus,
Mail Boxes Etc. (MBE)
Stirling, Scotland
Graham Angus opened his Mail Boxes Etc franchise in July 2005, after meeting MBE at a franchise exhibition in Scotland. He believes becoming a franchisee was one of the best decisions of his life.
He chose to leave a secure and well paid job to realise a lifelong ambition to be his own boss. He said: "I had always wanted to have my own business but it was tempting to stay comfortably where I was. However, time was marching on and I began to think 'it's now or never'. Although I was very keen to go ahead, at that stage I didn't have a viable original idea so I began to search for a franchise, with my wife's full support.
"I wanted a franchise in a completely different sector to the one I knew after a career in the wholesale food and drinks market. My search led me to MBE which impressed me greatly with its wide range and variety of customer services," Graham continued.
MBE, a full member of the bfa, is unique in UK franchising with its nationwide network of High Street 'one-stop' specialist centres that offer a wide range of convenient, fast and cost-effective business services to the general public and to local companies.
These include international parcels packing and delivery; digital, black and white and colour copying; mailbox services; document finishing services; office supplies; stationery; fax and on-line communications and postal services.
Graham said: "It's great being part of a network and following an established and proven system. I hadn't realised previously that the biggest impact on the success of the franchise is achieved by your own hard work in marketing the franchise's services locally, as well as following the franchisor's system. I believe that personal involvement means that no-one else can show the same deep commitment and enthusiasm to growing and developing the business. Building up awareness and working hard are the tools that bring success."
At the end of year three, turnover had increased by 34 per cent on the previous year and Graham says, modestly, that the franchise is "going in the right direction". He now employs one full time person and one part-timer.
"Our major activity that brings the lion's share of the turnover is undoubtedly documentation and printing services," Graham said. "We have established a very good reputation locally as a reliable and cost-effective digital printing house. Being a franchise is a great opportunity but with the benefit of 'safety in numbers' and on-going support from the franchisor," he concluded.