Experience of a lifetime with the Ceramic Experience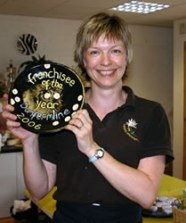 Name: 
Shona Gilchrist
Franchise:
The Ceramic Experience
Why I chose franchising
My background is in Catering, and my husband was in Marketing. I used to supply baking to the ceramic experience in Edinburgh. I loved visiting the outlet to make my deliveries, and wished I could open my own branch. I discussed it with my husband, considered the business very carefully, and we eventually decided to take the plunge and start our business, confident that if we loved it, other people would too – and that we had the back up of a proven business model.
How I raised the finance
The ceramic experience has good relations with two leading banks, and they helped us put our business plan together. We had some money of our own, and with the help of the Bank we were able to raise the necessary finance. It was daunting at first to consider such a step, but everything was straightforward, and the good name of the ceramic experience helped to open doors for us.
The training and support I receive from my franchisor
We were fully trained before we opened our site in Dunfermline, including hands-on experience in two other sites, but even the best training isn't the same as what you learn actually running your own business! The back up was a great confidence booster -  Head Office is on the end of the phone, and our fellow franchisees all support each other as well. We have a regular visit from our franchise manager, ongoing training in new products and techniques as they're introduced, and "franchisee forums" or get-togethers to discuss the business and new ideas. It's good to know there's always someone to help or give good advice – or who understands what you do every day and just to have a moan to sometimes!
The challenges I have faced
"the ceramic experience is ideal for me. I enjoy meeting people, the creative side of the business and running the cafe - it's full of variety and good fun. It's no picnic, though. The working day doesn't stop when the customers go home. We're open seven days a week, year round, and while we've got great staff, when they're on holiday or go sick, the buck stops with you. At the end of the day, it's our business, and it's up to us to make it work. Of course, there are benefits too – the credit and rewards for success are all ours!


My advice to someone thinking of buying their first franchise
As well as choosing a business that's already proven in the marketplace, think very carefully about what's involved in the daily routine of the franchise you're considering. It may seem obvious, but the franchise should be one that you think will be successful in your area, and one that suits your personal skills, talents, and what you want from your working life.  
My plans for the future
We'd love to open another ceramic experience outlet.  If my husband and I could clone ourselves, it would be perfect! Our children are growing up, and we'd like to give up work in a few years time, and enjoy some travelling and 'us' time!