Receiving Reassurance with Drain Doctor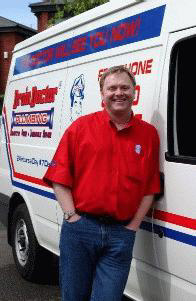 The insecurity overhanging Scottish industry has prompted a Grangemouth worker to take voluntary redundancy to launch his own "recession-proof" business as a 24-hour Drain Doctor Plumbing franchisee in Edinburgh.
Stephen McCluskey, 37, is launching the business with one technician but aims to expand to a team of 10 over the next five years. He has spent five years with BP Chemicals and seven years with cargo management company SGS Redwood.
"With the insecurity facing the long-term prospects of Scottish industry I wanted to take control of my future," he said. "Franchising is a proven business concept but I still investigated lots of possibilities before deciding that Drain Doctor Plumbing was the best prospect."
"What convinced me was the company's unprecedented standards of customer service and the fact that plumbing and drain repairs is a recession-proof business."
Stephen, who once worked as a plumber's mate, is launching the business in partnership with his wife, Margaret, who previously worked for banks and insurance companies in Scotland.
"Our business strategy focuses on providing unrivalled levels of customer service, from the first telephone contact when we give customers a definite time for our technician to call right through to guaranteeing all workmanship," said Stephen.
"Unlike most other plumbers we don't impose call-out charges, we don't charge extra for working unsocial hours and we agree a fixed price quotation with customers before starting work. Our technicians even wear plastic boot covers and use work mats to protect household furnishings."
"Investing in a franchise business reduces risk because it is a proven system with a nationally recognised brand name and I have the professional support of a head office team," he added. Stephen and Margaret have two sons, Matthew, aged five, and Christopher, one.
Drain Doctor Plumbing received a Certificate of Merit award in the British Franchise Association's 2003 Franchise of the Year competition, which is sponsored by the Daily Express and HSBC Bank.
The company was launched in 1993 and quickly grew to become Britain's largest emergency plumbing and drain repair business with a network of nearly 70 franchise areas covering 90 per cent of the UK population. Over 99.5 per cent of its customers would recommend its service to other people, according to figures from the independent web-based National Centre of Recommendations.