Still going strong with Rosemary Conley franchise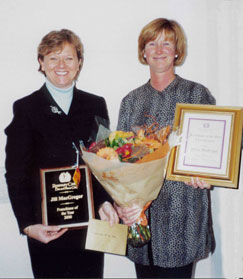 Jillian MacGregor
Rosemary Conley Diet & Fitness Clubs franchise
Jillian has been operating since April 1995, and won the accolade of the company's top franchisee just a few days after giving birth to her second child Cameron. This, she says is one of the reasons why she loves what she does for a living.
"Since joining Rosemary Conley Diet and Fitness Clubs as a franchisee, I have had much more time to spend with my family," says Jillian.
"I joined the company in April 1995 and haven't looked back since. Before starting out I was keen to find out everything I could about the organisation, but with Rosemary Conley's reputation and proven diets it was an easy choice to make. Since then I have received excellent training and the ongoing support and assistance from the organisation has helped me to make such a success of my business."
Before joining Rosemary Conley Diet and Fitness Clubs, Jillian worked as a computer programmer for British Gas. Despite leaving her job after ten years, Jillian had no regrets in making the move - especially as it proved to be the right one for her.
"It really was a complete change for me but it was the right decision to make, and one that I would make again and again if I was asked to choose. I love the flexibility and improved lifestyle I now have."
Jillian has expanded her business from when she first started and now runs 12 classes a week. She regularly attracts a high number of members and has achieved this by providing a caring and personal service to those wanting to lose weight.
"I really believe in Rosemary Conley's philosophy for losing weight - based on low fat eating coupled with exercise. I love the work I do. It is extremely rewarding to help people lose weight and improve their looks, their confidence and their health."
Jillian has achieved a high level of market penetration in her territory by following the system as laid out by her franchisor, but it is also her 100% commitment to her business and her members which has contributed towards her becoming Franchisee of the Year 2000.