A passion for restoration lead Kirk to Furniture Medic Glasgow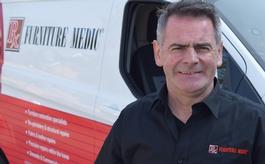 Name: Kirk Grannell
Location: Glasgow
Franchise: Furniture Medic
Date launched the franchise: 28/02/2016
Can you tell us a bit about yourself and what you were doing prior to buying a Furniture Medic franchise business?
My previous career was mainly management roles, in industries such as retail, financial services and professional services. But I had always had interest / hobby in repairing/ restoring items from an early age.
Can you also tell us about Furniture Medic franchise?
Furniture Medic repairs and restores furniture; a wide range of skills are required, upholstery, wood refinishing, leather repairs, completing structural repairs and joinery. Some of the more unusual items I have restored are a mirror tiled mannequin, designer handbags, an exotic travel chest and antiques. We also do commercial repairs in restaurants and similar; this year I have recovered 10 barbers' chairs.
Why did you go down the franchise route? What made you choose furniture restoration industry? And why did you choose a Furniture Medic franchise?
In a previous role I sold products into franchise business and so I got to know the owners and how their businesses operated; I got to see the benefits of owning a franchise business. When I saw the Furniture Medic business for sale, I wanted to know more as the creative side of the business interested me. I also had piece of mind with it being a franchise as thorough training and support was covered and I got to work with the previous owner in my spare time to understand the business better. Another benefit was having established existing clients to substantiate the investment and short-term returns.
How did you raise the finance?
I had worked with Business Gateway on previous occasions and always found them a good sounding board. They looked over my completed business plans and helped finalise them before they were submitted to the bank. I would advise a similar route to anyone considering a franchise.
What training and support did you receive initially and ongoing?
I had worked with the franchise for a few weeks. I then started a residential 2 week course covering the administration and practical basics required to complete basic work.
How would you describe your day-to-day role as a franchisee?
A bit of everything really, organisation is the key. The role is completely varied, not just in the work which changes constantly, but in new challenges and opportunities. A bit of knowledge in all aspects of business is useful, and the ability to research and get help with new areas essential.
What challenges have you faced?
I have new challenges every week, from a piece of furniture I have never worked on before, to estimates for large restoration projects like restaurants. There is more repeat business and referrals from customers to their friends and family the more established you become.
Has becoming a franchisee changed your life, if so how?
The challenge and commitment to becoming successful and complete the hardest of jobs is very fulfilling. This builds your confidence and really pushes your learning curve and ability to grow as an individual. Being your own boss of a successful business is the best form of work satisfaction.
What is the most invaluable piece of advice you could give someone looking to buy their first franchise?
Do your homework and throw yourself passionately into it, there is everything to gain.
In your opinion, what makes a successful franchisee?
Discipline, patience, hard work and commitment.
What are your plans for the future?
In the short term to buy a new property and build my own workshop. Try and keep up with social media marketing, retire in 10 years with lots of options, and a home here and one abroad.
If you had to do it all again, what would you do differently?
I would have bought my own franchise 20 years ago.