From Vodafone employee to Vodafone partner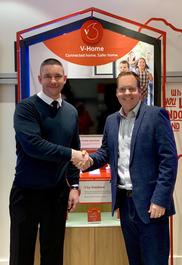 Name: Scott Christie
Location: Edinburgh, Livingston and Stirling
Franchise: Vodafone
Date launched the franchise: 1st February 2019
Can you tell us a bit about yourself and what you were doing prior to buying a Vodafone franchise business?
I had worked for Vodafone for 20 years before becoming a Partner. I started as a Sales Advisor in the Kirkcaldy store and worked my way up to become Senior Store Manager at the flagship Edinburgh Princes St Store. The opportunity to become a Partner was the next sensible step to use what I had learned and apply it to running my own company.
Can you also tell us about the Vodafone franchise?
Vodafone is one of the world's leading telecommunications groups, with a significant presence in Europe where they have already franchised to great success. Though Vodafone UK only started franchising in 2017, the programme has grown rapidly.
Why did you go down the franchise route? What made you choose the telecommunication retail industry? And why did you choose a Vodafone franchise?
It was a case of the right opportunity at the right time. I was a very experienced store manager and had reached my potential in that role. When Vodafone announced the Partner Programme, I debated whether to stay in my current position or become a Partner. I then decided that the potential outweighed the risk and the opportunity was just too good to pass up.
How did you raise the finance?
Vodafone immediately put me touch with an Account Manager at Barclays - one of their financial partners – who helped me secure the funding required. My initial capital was provided through a mixture of savings and a personal loan (which I'm delighted to say has now been repaid due to the success of my stores already).
What training and support did you receive initially and ongoing?
Vodafone supports all potential Partners by providing a financial training course in conjunction with Franchise Finance. This was especially helpful as although I was excited about the prospect of managing the finances of my own company, I was daunted at the same time. The course helped me put together an in-depth business plan and understand key concepts such as P&L, cashflow and balance sheets. Vodafone also provides regular updates on services and training to help share best practices from the other Partners.
How would you describe your day-to-day role as a franchisee?
At the beginning I tried to spend as much time as possible in the stores to discuss performance, opportunities and expectations with my teams. Now that I have three stores up and running, I spend much more time analysing the existing data I've gathered in my first 6 months and trying to refine all processes and behaviours.
What challenges have you faced?
The biggest challenge was getting all three stores up and running within a staggered 6-month time frame. Whilst I was very lucky to inherit existing stores, there were still back office improvements I wanted to make, additional recruitment I wanted to get in place and training I thought would be beneficial for everyone. As soon as one store was almost ready then the next store needed to be addressed – it made for a very hectic few months!
Has becoming a franchisee changed your life, if so how?
Absolutely, even if one removes the financial freedom from the equation, no two days are ever the same. Whilst being directly responsible for 32 employees is a massive responsibility, it is also great to see and share in my teams' individual successes and their personal development. I would not have been able to experience this if I were, say, a manager managing a single team within a company.
What is the most invaluable piece of advice you could give someone looking to buy their first franchise?
'The E-Myth' by Michael E. Gerber was recommended to me very early on in the process. It proved invaluable for articulating the pitfalls one might encounter and illustrated the need to change ways of working if one is to be a business owner. This particular quote stuck with me: "If your business depends on you, you don't own a business—you have a job."
In your opinion, what makes a successful franchisee?
I can only speak from personal experience but I think surrounding yourself with the very best people you can find for each role makes life a lot easier and allows you to concentrate on your job rather than feeling the need to get involved in task that stops you from concentrating on ensuring the overall success of the company
What are your plans for the future?
The immediate future is all about refining what I have learned in the first 6 months and building on it to ensure a really strong company structure. After that it gets really exciting – I will examine how to grow the business and focus on generating new streams of revenue.
If you had to do it all again, what would you do differently?
The only thing I regret slightly is relying a little too much on verbal agreements in some instances where services have needed to be provided from suppliers. A simple contract clarifies expectations for both parties and can avoid difficulties in the future.