Glasgow franchisee recognises the benefits of buying a franchise business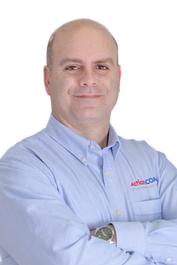 Name: Andrew Goldberg
Location: Glasgow, Scotland
Franchise: ActionCOACH
Date launched the franchise: April 2010
Tell us a bit about yourself and what you were doing prior to buying your ActionCOACH franchise business?
I was a senior account manager and new business salesman for a specialist I.T. consultancy company, primarily selling into large corporates such as banks and utilities.
Why did you go down the franchise route? What made you choose the business coaching industry? And why an ActionCOACH franchise?
I first established a sales consultancy practice and was going to go it alone, but I quickly discovered that I didn't really know how to set up the business, and deliver to maximum effect. I understood the business I was in – sales – but I did not have an idea in my head about my own business model. A franchise is an established, proven business model that I just need to learn and follow, which makes things a lot easier, and allows me to get my business off the ground much more quickly.
I chose business coaching because I already understood the basics of how to grow a business, so thought I could do well at this. I chose ActionCOACH for two reasons: 1) research showed they were the most successful and fastest growing business coaching franchise, and 2) the people I met while going through my due diligence were amazing.
How did you raise the finance for you franchise?
I secured a personal loan. Banks will lend up to 75% of what you need for an ActionCOACH franchise.
What training and support did you receive initially and ongoing?
At the start I received 11 long days of intensive and interactive training. The support I received since the training was regular contact from my master licensee, weekly webinars from successful coaches, and regular training and conferences throughout the year at various locations in the UK. I also hired a "Master Coach", who is ActionCOACH trained and certified in coaching other coaches.
What is a typical day for you as a franchisee?
I arrive early at the office to get at least half an hour of reading done each day, and get caught up on my emails and get ready for the day. On coaching days I will spend most or all of the day coaching my clients 1-on-1. Otherwise I will be marketing my business: that is, phoning up prospective clients, attending networking events, or running seminars and events that will attract my target market.
What challenges have you faced?
My biggest challenge was relating to my clients and prospects on a personal level. Being primarily a task-orientated person at work, I focused my coaching primarily on the work to be done, when in fact business coaching is about working with the business owners and their teams personally, getting them to understand and change their own behaviours. Once I figured that out, my business really began to take off.
Has becoming a franchisee changed your life, if so how?
This has changed my life more than anything else I have done. I am entirely in control of the results I get in my business. I have set up a business just a short walk from home, so I am able to give much more time to my family and personal endeavours. And the earnings and potential earnings are far greater than I was ever able to achieve in sales.
What is the most invaluable piece of advice you could give someone looking to buy their first franchise?
Be prepared to work every hard, and hire an ActionCOACH from day 1.
In your opinion, why is Scotland a great place for franchising?
Scotland is ripe for establishing new businesses, provided the owner or franchisee is prepared to do the work necessary and stick to it in the bad times. There is plenty of opportunity in Scotland, and business mindset in Scotland is changing every day, for the better.
What qualities do you think make a successful franchisee?
Hard work, determination, and the willingness to learn constantly.
What are your plans for the future?
I have a 10-year plan to build my ideal business as a sole practitioner. I am on target to achieve that goal, and once I do will consider building a firm of coaches, so that I have got a business that works without me.
Would you do it again?
Definitely, but I have learned so much I would do some things differently.