Card Connection franchise for sale in Stirling and Perth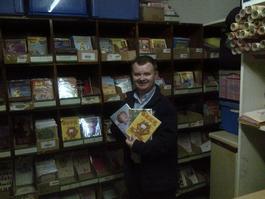 Name: David Roseweir
Location: Stirling & Perth
Franchise: Card Connection
Date launched the franchise: August 2007
Tell us a bit about yourself and what you were doing prior to buying your Card Connection franchise?
I was a forecourt retailer with Esso, the local Card Connection franchisee supplied Greeting cards, gift wrap and bags to my store.
Why did you decide to go down the franchise route?
I liked the idea of continuing to work for myself while having the support of a proven business model.
I purchased an established area with an existing customer base; this resulted in me having an income from day one.
Why did you choose the greeting card industry? And ultimately a Card Connection franchise?
I have always been retailed based and it was an ideal progression as I understood the market and the challenges my customers face.
I was impressed with Card Connection's professionalism their wide range of products and level of support. I also knew a bit about the company as I had been a customer for many years.
Why have you decided to sell your business?
My family have another business which has expanded and they require my assistance so reluctantly I have had to make the decision to sell my Card Franchise Business.
What's the key selling points of your business?
A good mix of Independents and National customers
Good transport links in area letting me easily visit customers
A lot of rural customers which means quieter roads, parking outside shops and less high street competition
Business run from a garage or room at home
To a certain extend can be flexible with hours
Contracts with Major symbol brands such as Nisa, Spar and BP M&S
Loyal customer base
What support should the new franchisee expect to receive?
Support from Head of Office as well as your own dedicated Regional Sales Manager. Knowledge from fellow franchisees at the Regional Meetings which are held twice a year where we come together in Regions and are able to discuss what is happening in the Network and what might work in one area but not in another and how we may be able to overcome these obstacles.
What are the other benefits of buying a resale?
Existing customer base so you will be earning from day one.
What is a typical day for you as a Card Connection franchisee?
Drive to furthest away call having loaded up the van the night before.
Merchandise the outlet, speak to the owner, and then raise invoice and delivery note for customer on my IPad.
While driving to other outlets on my route for the day I look for new opportunities.
At the end of my route I return to base, unload boxes so packer can put away stock and reload the van for the next day.
Other days I could be attending to paperwork, reviewing routes and responding to customer requests.
Has becoming a franchisee changed your life, if so how?
Yes it has an extremely positive affect on my family life as the business allows me to work around family commitments. While the franchise is extremely hard work, it is also very rewarding.
I have also gained a huge amount of fulfilment from positive relationships with customers.
What is the most invaluable piece of advice you could give someone looking to buy their first franchise?
Do your research and make sure it is what you are looking for; it's not just a job.
In your opinion, what makes a successful franchisee?
Being able to communicate with customers at all levels, good work ethic, discuss the product you are selling because if you are keen about it they will be too.
Click here to read more about David Card Connection resale in Stirling