Pizza is a family affair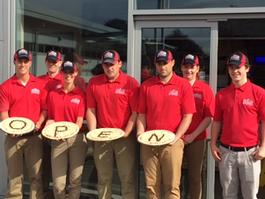 Name: Sam and Dave Foster
Location: Dundee and Ellesmere Port
Franchise: Papa John's
Date launched the franchise: 2016
Tell us a bit about yourself and what you were doing prior to buying your Papa John's franchise business?
Sam Foster franchisee for Dundee explains: "Papa John's is something of a happy accident for me. I spent nine years in the Airforce and also five years as an engineer on an off-shore drilling rig before discovering the franchise. However, it was a serious crash on my mountain bike which caused me to re-evaluate my future.
"I was out riding, hit a tree and was badly injured," confirms Sam. "I was hospitalised for two weeks and needed several months at home to recover but I was unable to return to the oil rig. With a young family to provide for, I needed a fresh start which is what Papa John's offered."
Brother, Dave Foster, franchisee for Ellesmere Port in Cheshire confirms: "The thing is, pizza is in our family. Our father worked as a franchisee for a rival firm for many years, while I also worked in the industry before cooking up plans to run franchised pizza stores.
"Unlike Sam, I originally started out in the fast food industry as a delivery driver for the same company as my Dad," continues Dave. "I worked my way up to shift manager and then area manager. After 12 years it was time to stop making pizza and start making money!"
Why did you go down the franchise route? What made you choose the pizza industry? And why a Papa John's franchise?
Dave Foster explains: "We knew about the popularity of the pizza industry through dad and my direct experience. Papa John's only uses only the freshest ingredients for a better natural flavour and its BETTER INGREDIENTS. BETTER PIZZA. concept has really attracted customers enabling the company to grow rapidly. In addition, feedback from my mates in London indicated was that Papa John's was now hot in town!
"Papa John's has been named as UK National Pizza Delivery Chain for the sixth time, plus runs an incentive scheme to help franchisees in the early stages of growing their businesses which includes discounted royalty fees, contribution towards marketing spend plus free equipment for new stores. All these initiatives meant we wanted to be part of that success – it made our choice to join Papa John's a simple one!"
How did you raise the finance?
A mix of personal funds and business loan.
What training and support did you receive initially and ongoing?
Dave Foster explains: "Papa John's training is comprehensive. Even with my background, training has been thorough, I spent time at Papa John's HQ in Milton Keynes and then worked in my brother's Dundee store for three weeks too. I was impressed how much attention is given to making the pizzas to create a superior product that tastes better than the competition!
"In our Ellesmere Port store my wife Rachael, who was also a training manager for the pizza firm we used to work for, now helps me run the business. When it comes to recruiting and training staff, it is great to be working with someone I trust and who is so experienced in this area. However, Papa John's is also there in the background and its experienced staff are available to offer us all the support and help we need on an ongoing basis."
What is a typical day for you as a Papa John's franchisee?
Sam Foster explains: "My role is mainly to manage the store and the staff. I oversee operations and this can be varied from recruiting to training to talking to customers and looking after the business. My wife is also involved in the franchise, which is great as she can be flexible which is helpful with our young family."
What challenges have you faced?
Sam Foster explains: "Recruiting really good and reliable staff is probably the most challenging aspect of the job and turnover can be an obvious issue with any business. However, by keeping staff motivated and providing regular shift patterns people know when they are needed and appreciate that element of stability and reliability in the workplace."
Has becoming a franchisee changed your life, if so how?
Sam Foster explains: "When I worked on the oil rig in Africa I used to be away for four weeks at a time. You get used to it but it's tough being away from family and home. I did this for five years and so being able to run a business in the UK is great. I'm home every night. It's been a big change but I love managing my own time and am excited about the future with Papa John's."
What is the most invaluable piece of advice you could give someone looking to buy their first franchise?
Sam Foster confirms: "Do your sums! Don't underestimate the cost of starting a business. The purchase price is only one part of the investment you will need to make in-terms of both your time and funding. You will need to budget wisely as there will be expenses you may not have considered. I would advise having a contingency fund to help manage this.
"In addition, you will have to work hard. You will need to be 100% committed to making the business work and this will, especially in the early stages, require all of your time!"
What are your plans for the future?
Dave Foster explains: "Both Sam and I plan to open up more stores in the near future. The assistance of Papa John's incentive scheme which is designed to help franchisees when setting up new stores will help. Deals on equipment, marketing and discounted royalties will make a big difference right when we need it."
Would you do it again?
Sam Foster: "Yes absolutely! Mind you if you'd have asked me in the first week of trading in Dundee, I might not have given the same answer! We were so much busier than we anticipated! However, that experience really confirmed how popular Papa John's pizza is and after a short learning curve, our stores are now really delivering!"
Read more about becoming a Papa John's franchisee in Scotland