Exclusive interview: "Franchising success for me and my family"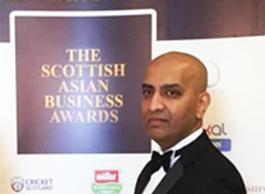 Name: Zulfiqar Haidar
Location: Scotland
Franchise: Papa John's
Date joined the franchise: 2001
Tell us a bit about yourself and what you were doing prior to buying your Papa John's franchise business?
Before joining Papa John's 15 years ago, I was involved in the family retail business. I helped my family run a convenience store. I also had a few other roles including selling advertising space at The Big Issue for several years.
Why did you go down the franchise route? And why did you choose Papa John's franchise?
I was looking for a business where my whole family could get involved. Retailing in Glasgow was tough at the time, so we were looking for a new opportunity with good prospects.
"Papa John's offered an exciting chance for all of us to bring a new concept to Scotland: Mom made the pizzas, my brother managed the accounts, my sister was great for customer service and we started out with just one delivery driver."
At the time Papa John's was unknown in the area so it was up to us to put it on the map!
How did you raise the finance?
For my first Papa John's franchise, I mortgaged my own home to raise the funds.
What training and support did you receive initially and ongoing?
"Papa John's provided all the necessary training during set-up and continues to provide on-going support."
These days this is mainly in the form of national TV advertising and marketing which we could never afford on our own! It helps us reach new customers and continue to expand. However, our business development manager is always on the end of a phone if we need any assistance!
What is a typical day for you as a Papa John's franchisee?
A typical day is varied as we are involved in working with several teams across our four stores in Glasgow and Paisley.
This may mean overseeing our stores or being more hands on, or doing some research for the new charity we have created: Papa John's Glasgow – a foundation to help charities obtain funding for local worthy causes.
What challenges have you faced?
Recruiting good staff is always a challenge. However, we aim to offer our employees real prospects.
We provide extensive one-to-one training in-store, backed-up by Papa John's excellent online training program. With the right dedication and effort any member of our team has the chance to work their way to the top in any of the stores.
This is motivating and helps to keep staff happy which is one of the keys to providing great customer service day-in and day-out.
Has becoming a Papa John's franchisee changed your life, if so how?
I currently run four Papa John's stores in Scotland with my brother Iftikhar and we are also planning to open a fifth soon.
This year we were named as the Company's International franchisees of the year as well as Papa John's UK franchisees of the year.
"Joining Papa John's has definitely changed all our lives for the better. However, although we have a secure future, it has now become more about what we can offer to our staff and also how we can work with our local people."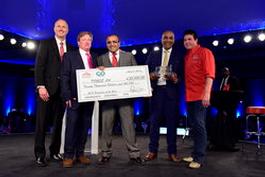 Our aim is to create more new jobs for the local community as we grow.
These days our Papa John's family has expanded and we employ around 150 local people in Glasgow and Paisley. Many of our staff have worked for us for 10+ years! So in this way, Papa John's has changed not only our lives but also the lives of many of our staff.
What is the most invaluable piece of advice you could give someone looking to buy their first franchise?
Choose a franchise with a popular product or service. You must have customer demand to be successful.
Papa John's is focused on quality and I think the best brands never lose sight of providing a top quality product and service.
In your opinion, what makes a successful franchisee?
"For us, being successful is not necessarily all about the financial results of the franchise – although that is important! It is also about being able to help people in our community progress through offering them real job prospects."
Or, offering us the flexibility to set up community projects like Papa John's Glasgow, which will benefit local people too. As a franchisee you have to care and for us, that's what makes a good franchisee.
What are your plans for the future?
We are planning the opening of our fifth Papa John's before the end of this year.
Would you do it again?
Yes, absolutely!
To find out more about Papa John's Scotland click here