Franchising offers better work/life balance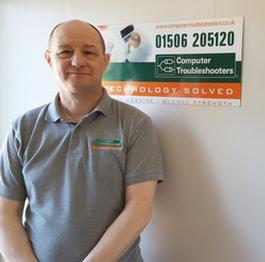 Name: Charlie Moncrieff
Location: Edinburgh
Franchise: Computer Troubleshooters Edinburgh West
Tell us a bit about yourself and what you were doing prior to buying your Computer Troubleshooters franchise?
I have been working at management level and around/in I.T. for about 20 years. For 12 years working as an I.T. Manager for a Market Research Agency looking after their I.T. infrastructure and data processing department I was looking for a new challenge but possibly for myself.
The franchise offered me that challenge and the possibility of a better work / family life balance, rather than working 8 – 15 hour days for someone else.
Why did you go down the franchise route? And why did you choose Computer Troubleshooters franchise?
I had always wanted to work for myself and the CT franchise with its support and structure aligned with my skills and experience, so this gave me an ideal opportunity to make the move. The support behind the franchise made it more comfortable than just going into business on my own.
My area had lots of businesses that I could offer a more personalised IT support to as an alternative to the larger non-personal companies.
How did you raise the finance?
Initially I took out a small loan and with some savings, I bought into the franchise.
What training and support did you receive initially and ongoing?
After some email correspondence asking all about the franchise, I initially spent 3 days at the CTUK head office learning all about the franchise, what support was available, the products and how to run my own business and generate customers.
I came away from the training days with a toolkit, lots of marketing materials, branded work wear, branding items to use and hand out and a business database that head office initially contacted to let them know I was setup and ready to assist them in my given franchise area.
Since this initial training we have our own UK franchisee support forum alongside our global franchise support forum that I can post onto either for advice on technical matters, what to charge for specific services, what is the best solution for a customer requirement or just information on how other franchisees market their business to become more successful.
We are supplied with our own franchise website which we can customise to suit our franchise area, CTUK head office (and CT Global) negotiate special supplier deals (which we receive regular updates to) for a range of products that we can provide our customers with, and are designed to help us save on costs and make the business more profitable.
CT have their own ftp site full of forms, documentation, business plans, branding, marketing ideas that we can download and customise for our own franchise area, which is really useful. This is maintained by CT Global but contributed to by all the franchisees as well as CT Global and CTUK.
We have a main conference per year (and sometime an additional regional conference) that all the UK CT franchisees attend, which gives us the opportunity to meet the other franchisees and chat about their business and what works or doesn't work for them. We learn about new suppliers and chat about industry changes etc to keep abreast of new technologies.
We have a monthly 1-hour webinar with CTUK Head Office and other UKCT franchisees to chat about anything that we want to talk about or if there are any new developments with suppliers or CT in general.
CTUK Head Office are always available by phone or via email if I want advice or want to ask a question about the franchise, supplier or marketing so this is very comforting to know that there is someone there to bounce ideas off or just to talk to.
What is a typical day for you as a Computer Troubleshooters franchisee?
The start of everyday is checking my remote support portal dashboard to make sure that all my customers computers and servers are all running normally.
Check my emails for any incoming requests for support, information on my business, supplier updates etc.
Respond to/deal with any support queries, telephone calls then once things have settled I start looking at how I can market the business to new customers.
If I get time I will also check the forums regularly for new posts to keep ahead with any technical issues/solutions that other franchisees have had or if I can assist with.
Raise invoicing/billing for work carried out and update databases with potential customer information.
What challenges have you faced?
The economic crises in 2008 was difficult as we saw quite a few businesses close, businesses were all watching their budgets, trying to reduce costs.Even today we have customers asking for quotes and using this as leverage to reduce other quotes they have had from competitors. Quoting for business has become very competitive and trying to stay different/unique from our competitors is always a challenge.
Competing with the larger I.T. support companies in my area is a constant battle as they tend to undercut my prices just to get the business.
Has becoming a franchisee changed your life, if so how?
Becoming a franchisee has increased my confidence in business, it certainly has provided a better work / home balance as I get to spend more time with my kids when I want/need to.
Being in charge of my own destiny is exciting, frightening at times but satisfying in that it is up to me now where I will be in 5 or 10 years' time.
I have met so many different people from directors to receptionist, gained an insight into various industries, every day brings something new and that keeps my day interesting and fresh.
What is the most invaluable piece of advice you could give someone looking to buy their first franchise?
Prepare for the worst and plan for the best!
In your opinion, what makes a successful franchisee?
Be persistent, stay positive and always give more than a customer asks for
What are your plans for the future?
Expand and employ three or four staff, not too big but big enough to give everyone a decent living and provide an excellent service to my customers.
Would you do it again?
Absolutely, I have never once regretted becoming a franchisee. Its hard at times but that is outweighed by the freedom, satisfaction and the people that I have met along the way.
To read more about the Computer Troubleshooters franchise opportunity and to apply for their prospectus, click here.