Interview with Scott Blyth of etyres, Edinburgh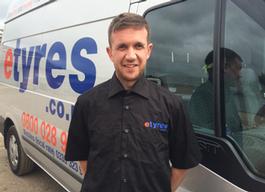 Name: Scott Blyth
Location: Edinburgh
Franchise: etyres
Why did you go down the franchise route? And why did you choose your franchise?
I wanted to invest in a franchise because I knew I wanted to hit the ground running. I have built up my own business before and this time I wanted to get off to a flying start with a business that I knew would work in my area.
What did you do before taking up a franchise?
For the past 20 years I have been a hairdresser, helping my clients transform their appearance with a new hairstyle – I wanted a more dramatic change for myself, I wanted a challenging new career.
How did you raise the finance?
I had the funds to partly finance the business myself and etyres helped me put together a business plan and finance proposal, which I took to Natwest to obtain the rest.
What training and support did you receive initially and ongoing?
Since my first approach to etyres I have been very impressed with their commitment and professionalism. My training was very thorough and filled me with so much confidence that I could not wait to get out on the road.
What is a typical day for you as a franchisee?
After nearly three months of trading, I still can't say I have got a typical day yet - but I can tell you every day has been brilliant! I plan my days fitting, but something usually comes up to change my plans, plus I take advantage of every opportunity to do a bit of marketing and networking to generate new business. I have teamed up with a couple of sports car garages - my second job was fitting tyres to a Ferrari. They really appreciate the fact that I come to them, plus I am liaising with a mobile car valeting business.
What challenges have you faced?
During the first few weeks I had a few teething problems with equipment which was quickly sorted out, but even that turned into a positive experience, because I had lots of advice not just from Head Office, but also from other etyres Franchise Owners in Scotland. Everyone involved in the business is looking out for each other, which surprised me and has really been a bonus. I have also been snowed under with calls, but fortunately the national sales team has been taking them for me so I can concentrate on the fitting.
Has becoming a franchisee changed your life, if so how?
Absolutely. I can honestly say I have never been happier in a job. I am still in the early stages of running my business, but because of the success I have had so far I am already able to start thinking ahead to next year and taking on another van and a fitter. Having said that, I will devastated if I have to give up going out in the van altogether, because I really enjoy it. The freedom of driving around, chatting with the customers and the good feeling you get from a job well done.
What marketing/promotional tools do you use to grow your franchise?
I am taking advantage of the collateral available from Head Office and keeping my local website up to date. I also have long term plans to do something based around football, because the fan base here is enormous.
What differentiates your franchise from the competition?
The fact that I have a personal investment in the business drives me to offer customers the best service possible. Every job is important to me, because it is what secures my families future and therefore I have a huge vested interest in making sure my customers are always happy.
In your opinion, what makes a successful franchisee?
Fantastic customer service skills. You can learn how to fit a tyre or repair a puncture, getting on with people and understanding what they need is what sets you apart.
What advice would you give to someone thinking of buying their first franchise?
Choose something that suits your skills. As I have already mentioned, I really like building a rapport with customers and clients and this is already helping me secure new business through word-of-mouth recommendations.
What are your plans for the future?
Definitely to take on a new van and a fitter next year. I am already on the look out for the right person who has really good customer service skills, because I believe that is the key to increasing sales and growing the business.
Would you do it again?
Absolutely! I have been contacted by other people who were interested in investing in their own branch and I have told them exactly the same and mean every word of it.