Expanding the Papa John's family in Scotland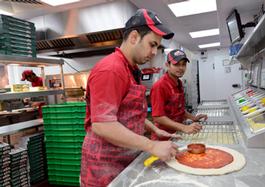 George Eastcroft helps run the family business in Edinburgh. Along with his wife and son and a team of almost 50 staff they manage two Papa John's franchised stores in the city.
George explains: "I'd worked in IT sales for around 15 years and before that studied production engineering as a mature student. However, it was my son Andrew who came up with the idea of running a Papa John's. He had worked for a rival firm as a student and the idea of running a food franchise had stayed with him. I backed him and we bought our first franchised store in the heart of Edinburgh. That was ten years ago and we haven't looked back!
"At the time the Papa John's concept was new to Scotland, however, as brand awareness grew so did the popularity of our store and last year we were able to open a second outlet, also in Edinburgh. We were able to take advantage of some great franchise incentive deals that Papa John's was offering which included deals on equipment, marketing and franchise fees.
"Once the location was found we knew it was time to expand. The new store has been even more successful than the first and exceeded all our expectations. We didn't even need an official launch party, we were so busy from day one and sales continue to be great!
"Papa John's head office staff have been fantastic and have never let us down. It's been hard work but we know that they are there to back us up and support us. It's like one big family!
"As well as the company infrastructure and support the key to our success is quality. The pizzas are all made with fresh ingredients and 100% fresh dough and our customers just love them! John Schnatter who set up Papa John's in 1984 is a great inspiration, a family man and a thoroughly 'nice guy'! He is still totally hands-on in the business and completely focused on ensuring everything the company does is of high quality from the pizzas, to the store set-up to the customer service and this emphasis on quality is one that the customers really appreciate and trust.
"The future is exciting as I know the Company has some major promotional initiatives planned for this year and this will expand the market further. Our plans definitely include opening more stores in Scotland over the next few years and growing the Papa John's family."
Papa John's is now the world's third largest pizza chain. The company was created by the original 'Papa' John Schnatter, who built the company, starting out from a converted broom cupboard in his father's tavern in the US, to become a multi-national success with around 4,600 stores in 36 international markets and territories.
Papa John's, which is renowned for its product quality, has opportunities for potential franchisees throughout the UK including the key locations of Yorkshire, Manchester, West Midlands, East Midlands, South West, North East, Wales & Scotland.