Interview with Bryan and Shelia Jones of Card Connection, Carlisle and Lancaster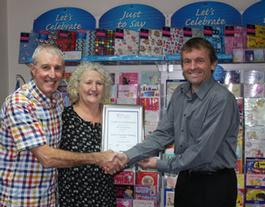 Bryan Jones and his wife Sheila purchased the Card Connection franchise territory in December 2013. The couple now supply Card Connection's range of more than 1,200 quality greeting cards and accessories to around 120 retail outlets from Lancaster to southern Scotland.
Bryan Jones explains: "We knew the former franchisees for Card Connection's Carlisle and Lancaster area – Colin and Julie Margison – for a number of years and I helped them a day a week for a while, doing some of the delivery and merchandising of the greeting cards in-store, so understood how the franchise worked. So when they talked about selling we were very interested.
"I also knew the franchise had been well run over the 19 years Colin and Julie owned it and believed this could be a great opportunity. The rest as they say is 'history' and we bought the business just before Christmas. In the greeting card industry, that's the busiest time of the year so we were on a steep learning curve! However, six months on and we are now confident and have even taken on around ten new retail customers in that time."
What do Card Connection franchisees do?
Card Connection franchisees place the stock in retail outlets on a 'consignment' basis. This means the stock and display equipment is installed on free loan to the retailer. This is one step beyond 'sale or return' as Card Connection retail customers never have to buy the stock in the first place, only paying for what they sell. The award winning merchandising service provided to retailers by local franchisees is second to none and has established the company's excellent reputation especially within the convenience sector.
Bryan's Success Story:
Bryan who previously ran his own graphic design and wedding photography business for many years describes a typical day: "I spend most of my time out on the road visiting retailers. I have a wide geographical area which covers Carlisle, Lancashire, Cumbria and Southern Scotland. I visit between 6-10 stores each day and I might be in Gretna one day in Spar then the Factory Store in Annan, then the next day, be in the beautiful Eden Valley. The region is a wonderful place to work!
"I have always enjoyed dealing with customers and like building relationships with my retail clients. I have also lived and worked in the area for 30 years so know it like the 'back of my hand'. This knowledge is helpful as there is a fair amount of travelling required to visit stores across the territory.
"While in the stores I take out old stock and re-merchandise displays of cards to ensure they look attractive and fresh. With Card Connection releasing new designs every week, there is always new product to temp customers! In the afternoons I return home to pick the stock ready for the following day's deliveries. My wife Sheila helps back at base and we also have a part time employee who unpacks stock.
"My aim is to gradually develop the area. There are always opportunities to supply new retail customers but what can be exciting is where a store is having a re-fit and there is the chance to install a bigger and better display. For example a local outlet recently refurbished and I was able to increase the size of our display to a 1.5 meter rack and sales have increased around 20 times that of previous sales in the same outlet, which has become far more profitable for both my retail client and me!
"The product itself is excellent. There is a huge variety of card designs to suit every taste and appropriate for every occasion. Because they are celo-wrapped they remain looking good in-store too!
"The best thing about running a Card Connection franchise is working for yourself. I worked in a city for many years but now love being out on the road in our beautiful countryside. I also like meeting people and the variety the job involves. My retailers are always happy to see me and look forward to receiving the latest stock.
"If I had to offer a new franchisee any advice it would be choose a franchisor that can provide a good back up and support structure. It is important to have this behind you so that you know you can always pick up the phone and help will be there if you need it."
About Card Connection:
Card Connection is one of the UK's largest card publishers and is the market leader in the franchised distribution of greeting cards. The business' unique model of consignment sales has resulted in a strong brand and established reputation which has been proven over many years. Through its franchisees Card Connection supplies about 12,000 retailers throughout the UK.
Card Connection is a division of UK Greetings, which in turn is a subsidiary of American Greetings Inc., one of the largest greeting card publishers in the world and has limited vacancies for franchisees that are keen to run an expanding business. Since the franchise network in the UK is complete, the available opportunities now consist of acquiring an already-established territory from an existing franchisee. These vary in price according to their level of development, but start at £7k + Stock + Card Connection fee with earnings potential in excess of £50k per annum.
For further information please click on the link below to view our profile. Card Connection currently has territories available in the North of England and Scotland including: Kingston upon Hull, Southport/Wigan, Ayr/Kilmarnock, Edinburgh and Lanarkshire.