From survival training to running your own business!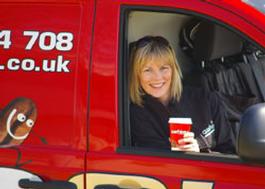 Laura Macrae, Cafe2U's Aberdeen West Franchise Partner, had spent several years working for a survival training company but when she decided to start her own business, franchising was her survival net. Here she explains why she chose franchising and why a Cafe2U franchise was for her.
Cafe2U is the world's largest mobile coffee franchise system, delivering fresh espresso coffee and great food to businesses, events and functions. With over 50 franchises in the UK and over 100 franchises in the rest of the world, their proven business model gave Laura a sense of confidence when starting out on her own.
"My journey with Cafe2U started when my husband came home from his first day at a new job, raving about the Cafe2U coffee van that parked up outside his office! I had decided that I wanted to start my own business and opening my own café has always been a dream of mine. My husband was already a fan of the Cafe2U coffee but I never would have thought that just a short time later it would be the basis of our household income and that my Jack Russell Terrier would be partial to a cup of Cafe2U as well!
"I studied Hotel Catering & Management, spending many years in the hotel industry after college. A change of direction took me into the private sector working in logistics for a survival training company, then 6 years with Visit Scotland as a supervisor of Aberdeen's visitor information centre before a final 2 years with another survival training company as an Account Manager.
"I knew I didn't want to start a business from scratch – it was too big a risk. I already knew about franchising from the big players like McDonalds and Subway, so I searched on the net for more information. It was the Cafe2U concept that caught my eye and the excellent reviews I had received from my husband about their quality products and service that drove me to find out more.
"After discussions with the Cafe2U team, I was really keen on this established and thriving concept and it was clear that there was a good support mechanism in place. I also loved the van which was fitted out with everything you could need such as barista equipment, warming oven, fridge – plus it stands out from the
crowd and it has an air-horn which plays music to announce to everyone when you have arrived – just like an ice-cream van!
"I decided to go ahead with the purchase after just 4 weeks of research. As I purchased an existing Cafe2U business, I was able to spend some time with them learning the ropes as well as the normal formal training programme that every franchise partner takes. Cafe2U provide ongoing support via phone and email, I also receive regular quarterly visits from a member of the Cafe2U team.
"In June 2009 I took my first drive out in my new Cafe2U van and have never looked back. I think it is our unbeatable coffee and great ongoing support from the head office team that makes us a winning blend. I wouldn't hesitate in recommending this franchise to other people looking to start their own business.
"My advice to anyone looking at buying a franchise is to research ALL the details and especially the small print, make sure you will always get ongoing support and backup from your franchise brand's head office, not just when things go wrong."
Laura was recently shortlisted in the Best Drinks category of the Beverage Standard Awards 2011. Even though Laura didn't win the overall award, the judges commented that her hot drinks were outstanding and the best they had tasted from a mobile coffee van in 2011, resulting in an additional special commendation for her overall standards and delivery.
"My weekday customers are all office-based and 80% of those are linked to the oil industry. I make 30 stops in a day on average. They know when the van arrives as the air-horn goes off and customers come out to me. I also take the van to some weekend events, like the Highland Games and agricultural shows, which are another way to boost sales.
"Looking to the future, I want to continue to build a loyal customer base and help everyone in Aberdeen to enjoy our great coffee!"