From fast jets to PC PAL franchise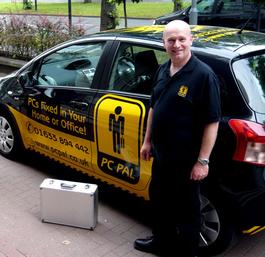 Newport based Jeff Thomas launched his PC PAL franchise in September 2008. Jeff,48, was previously an aircraft technician working on military fast jet aircraft.
How did you find out about PC PAL?
I was looking at different franchisee businesses and settled on a pc business because I had some interest and prior knowledge of PC's, I found the website through Google.
Why did you choose PC PAL?
I decided on PC PAL as they were focused, driven and had experience of running the business themselves. I had visited another PC business franchisor, but it was obvious after I had visited them that they lacked the focus and business commitment needed; in fact that franchisor no longer trades as a PC franchisor so I made the right choice.
What training and support did you receive from your franchisor?
Everything they stated in the meetings and leaflets/info pack were provided. Indeed we recently had a very successful sales presentation/workshop to assist us who are not used to selling.
What have been your main challenges and how did you overcome them?
Personally working on my own was a challenge, as I enjoyed working as part of a team; I miss the camaraderie of being in a group. It's just something you have to get used to.
How has your life / mind-set changed?
I am working, enjoying it, and if I need time out then I can schedule it in.
How is your work-life balance?
I have to be flexible, but it is a balancing act!
How was your launch and first few months as a franchisee?
I got off to a slow start; I think that was because of the time my ads went out, and the delivery of local directories which took a month or more to get out. I was also in an area which had a few PC repair shops and call out PC repair services, so it took slightly longer to muscle my way in. It can be a bit disheartening and I did have concerns the first few months, but that soon passed.
Now though I'm doing really well and had two record-breaking months turnover wise recently, which is really encouraging!
What are your future plans?
To consolidate my position in this area as the premier PC repair company, with a view of perhaps expanding if business keeps growing.
What's the best thing about being a PC PAL Franchisee?
Being your own boss, and working at a time to suit you. Knowing that the back-up is there if you need it.